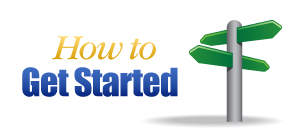 How to Get Started at Forsyth Tech
Our website contains a lot of information about a lot of different things. If you're not sure what to do or where to go first, read through this page. It should help you find the information you need. (Click on any underlined word to go directly to that page on the website.)
How to Find the Course Or Program You Want
Credit Track programs let you earn a degree, diploma or certificate in a specialized area.
An Associate in Arts or Associate in Science (College Transfer) degree prepares you to transfer to a four-year school as a junior.
Associate in Applied Science degrees, diplomas and certificates prepare you to enter a career right away. You can see our complete list of available programs listed A to Z or by division.
College in High School programs are for high school students who want to earn college credits by taking courses at Forsyth Tech.
Economic & Workforce Development programs include:
If you're not sure which area you want, go to our Find What You're Looking For section.
How to Get Information on Applying and Registering for Classes
If you want to enter a Credit Track program and earn a degree, you'll need to check out our:
For more links, go to our Admissions page.
If you want to take a course or join a program in the Economic & Workforce Development division, go to the specific page listed above for registration information.
How to Get Information on Getting Help at Forsyth Tech
Forsyth Tech offers a number of Student Services that can help you reach your educational goals.
That should get you started. But we also encourage you to explore our site to discover the many different courses, programs and services we have to offer.