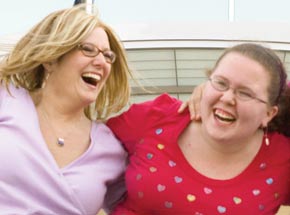 Why Forsyth Tech Is The Right Choice For Your Kids
As a parent, you want the best for your children, and that includes the best education. Here are six reasons Forsyth Tech is a great place for your kids to continue their education after high school.
Great Instructors
Our faculty brings together a unique blend of academics and real world experience, combining PhDs from some of our finest universities with professionals who have chosen to share their skills by teaching the next generation. Your son or daughter will leave Forsyth Tech with more than just theories and ideas – they will have a clear vision of where they want to go in life and how to get there.
Personal Attention
At Forsyth Tech, classes are small and instructors are accessible, so your child can get the attention they need. We also have a number of services available to help them succeed academically, including one-on-one tutoring, mentoring and dedicated academic advisors to keep them on track for graduation.
Career Training
It's a simple fact that a four-year degree is not necessary to have a great career. A two-year Associate of Applied Science degree from Forsyth Tech can prepare your child to enter the workforce and pursue a career in accounting, nursing, logistics, architecture and many other professional fields.
Transferable Credits
If your child is planning to pursue a four-year degree, a two-year Associate in Arts or Associate in Science degree from Forsyth Tech will allow them to transfer to a four-year school as a junior. Forsyth Tech credits automatically transfer to any University of North Carolina school as well as many private universities.
Lower Cost
Tuition and other costs at four-year schools have risen dramatically in the last decade. As a result, many students now leave college with massive debt due to student loans. Tuition and fees at Forsyth Tech are very affordable, and we have many financial aid options available.
A Better Chance of Success
At four-year schools, the average drop out rate for freshmen is 25%, meaning one in four do not return for their sophomore year. A primary reason for this is the pressure of dealing with college-level work combined with the distractions of being away from home for the first time. By attending Forsyth Tech, your child will be able to focus on their academic work without many of these distractions. He or she can get acclimated to the rigors of college work, then transfer to a four-year school better prepared to succeed. At the same time, Forsyth Tech does offer a number of clubs and organizations that will give your child the opportunity to experience the social side of college life.
Read One Parent's Perspective
Read why one parent feels Forsyth Tech was the best choice for her children.