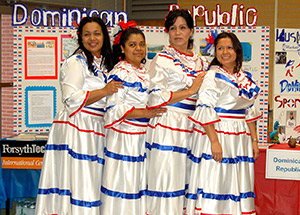 International Student Information
As of the spring of 2008, Forsyth Tech has been authorized to admit international students who hold F-1 visas. The application materials listed below are for students wishing to study under an F-1 visa only. All other international student admission inquiries can be directed to the Forsyth Tech Admissions Office at 336.734.7984.
Application Procedures
All completed application forms and documents must be submitted directly to:
Forsyth Tech Admissions Office
2100 Silas Creek Parkway
Winston-Salem, NC 27103-5197
Phone: 336.734.7556
Please Note: Due to the extended time it takes to submit all materials needed to complete the I-20 approval process, please submit all of the information included in the application by the following application deadlines:
Fall Semester Entry (August): Deadline for receipt of all materials is May 1
Spring Semester Entry (January): Deadline for receipt of all materials is October 1
Cost and Fees
Academics
Academic Programs
Undergraduate Catalog
Academic Calendars
Campus Information
Student Activities
International Student Club

Maps
Housing
Because Forsyth Tech is a commuter campus with no on-campus housing available, international students are expected to make their own housing arrangements.
Contact Us