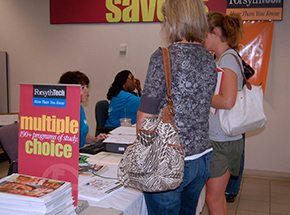 Registration
Find the course you are looking for using our online search form or download a complete course listing.
Important Registration Information
Refund Policy
100% refund for courses dropped officially before the term begins
75% refund for courses dropped officially before the 10% point for that course during the term
No refund for courses dropped after the 10% point of the term
Students can drop courses themselves through WebAdvisor until the term begins. After the term has begun, students must complete a drop form and submit it in person (to the Records Office, to their advisor, or to the Information Desk at any of the off-campus centers except West Campus) in order to officially drop a class.
Registration Sites
Main Campus
2100 Silas Creek Parkway, Winston-Salem, NC
Mazie S. Woodruff Center
4509 Lansing Drive, Winston-Salem, NC
Forsyth Tech Stokes County Center
1165 Dodgetown Road, Walnut Cove, NC
Northwest Forsyth Center
3111 Big Oaks Drive, King, NC
Grady P. Swisher Center
1108 Swisher Center Road, Kernersville, NC
Transportation Technology Center
4255 N. Patterson Avenue, Winston-Salem, NC
Please refer to the Student Handbook for drop or refund dates for 4 and 8-week courses.