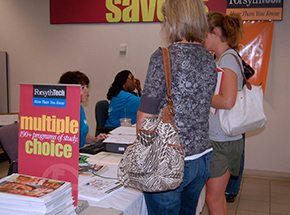 Registration
Curriculum Course Offerings
You can quickly find a course you are looking for using our online search form, or download a complete course listing.
Important Information
Important Upcoming Dates
Fall 2014 Classes begin Aug 18, 2014
Fall 2014 Late Registration- Aug 13-14, 2014 – 8 a.m. - 6:30 p.m.
Fall 2014
Friday, July 11 by 12 noon Tuition/fees must be paid or all classes will be dropped.
Monday – Tuesday, July 14 – 15 Walk-in Registration for New Students for Fall
Monday, August 11- Friday, September 5 Dates for financial aid recipients/sponsored students to charge books and supplies in the Bookstore.
Friday, August 8 by noon Tuition/fees must be paid or all classes will be dropped.
Tuesday, August 12 All college offices closed. Walk-in registration and other services not available.
Wednesday – Thursday, August 13 – 14 Late Registration
8 a.m. – 6:30 p.m.
Friday, August 15 Tuition/fees must be paid by 12 noon or all classes will be dropped.
Last Day for 100% Tuition Refund by 3 p.m.
Note: Once classes begin, if you are going to drop a class and add another during drop/add, you must do both at the same time (not just the same day) to avoid having a prorated charge on the dropped class.
Monday, August 18 FIRST DAY OF FALL CLASSES
Monday – Tuesday, August 18-19 Drop/Add
8 a.m. – 7 p.m. Payment due by 7 p.m. on August 19 for any course adds
Wednesday, August 27 by 7 p.m. Last Day for 75% Tuition Refund for Full-Term Classes
Monday, September 1 Labor Day Holiday—College Closed
Tuesday, September 2 Faculty Work Day – No classes
Friday, September 12 Last Day to Submit Intent to Graduate Form
for December Graduate Candidate
Monday – Tuesday, October 13-14 Fall Break – no classes
Wednesday, October 15 Employee Professional Development Day – No Classes
Friday, October 17 Last Day to Drop a Full-Term Course
Without Academic Penalty; Last Day for 100% Refund for Second 8-week Classes
Monday, October 20 First Day of Second 8-week Classes
Thursday – Saturday, November 27-29 Thanksgiving Holiday—College Closed
Wednesday, December 17 Last Day of Fall Semester Courses
Refund Policy (Specific Deadlines Noted Above)
100% refund for courses dropped officially before the term begins
75% refund for courses dropped officially before the 10% point for that course during the term
No refund for courses dropped after the 10% point of the term
Students can drop courses themselves through WebAdvisor until the term begins. After the term has begun, students must complete a drop form and submit it in person (to the Records Office, to their advisor, or to the Information Desk at any of the off-campus centers except West Campus) in order to officially drop a class.
Registration Sites
Please refer to the Student Handbook for drop or refund dates for 4 and 8-week courses.