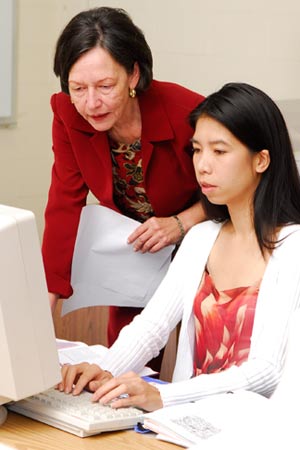 Basic Skills/ESL
If you lack good reading or math skills or have trouble speaking English, it can be difficult finding a good job. Forsyth Tech offers programs to help get you on the road to a better future and a better life.
Adult Basic Education (ABE) is designed for adults who need help with reading, writing, speaking, problem-solving and math skills. Adult Basic Education can help you function better in many ways, including on the job. For more information, call 336.734.7761 or visit our Adult Basic Education page.
English as a Second Language/English Literacy (ESL) classes are designed to help adults with a limited knowledge of English achieve competence in speaking the language. Speaking English properly will greatly enhance job and career potential. For more information call 336.734.7742 (se habla Español) or visit our English as a Second Language/English Literacy page.
Compensatory Education Development (CED) is a community college program designed specifically for adults (at least 17) who have been diagnosed as being mentally handicapped or who are considered adults functioning on an equivalent level resulting from a head or brain injury. The CED program consists of these major curriculum areas: language, community living, math, consumer education, health and vocational education. For CED Entrance Requirements, please contact Pam Glenn at 336.734.7763.