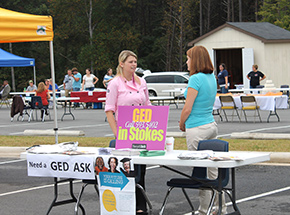 Adult High School/High School Equivalency (HSE)
Not having a high school diploma can often be a barrier to career advancement. If you left high school before earning your diploma, Forsyth Tech offers two options that allow you to complete your high school education and enhance your job opportunities or, if you choose, move on to college.
The High School Equivalency program allows you to earn a high school equivalency diploma from the State Board of the North Carolina Community College System by taking four computer-based tests: Reasoning Through Language Arts, Science, Social Studies, and Math. For more information, call 336.734.7761 (in Stokes County call 336.593.5402 x1104) or visit our HSE page.
Adult High School (AHS) is a program that lets you take courses online, allowing you to learn at your own pace and on your own schedule. There is no cost for Adult High School courses. For more information, call 336.734.7761 or visit our Adult High School page.
High School Equivalency and Adult High School applicants must be 16 years of age or older to enter.  Minor students, ages 16 and 17 must complete the Minor Release forms below.
Minor Release Form – AHS/HSE  (Requires notarized signature of parent or guardian.  This minor release form is for Adult High School/HSE students ONLY.)