Be needed. Be successful.
Be part of the healthcare solution.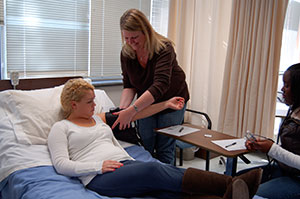 Students practicing lab skills in a CNAI class
The healthcare industry is one of today's fastest growing career fields. Healthcare Education workers provide needed assistance to doctors, nurses and other highly trained professionals.
Forsyth Tech programs are compliant with state certification requirements and will prepare you to take certification examinations and qualify for entry-level positions in healthcare institutions and agencies. These entry-level positions will allow you to begin a career that could lead, with further training and education, to greater levels of skill and responsibility.
Important Note:
Beginning August 1, 2011, students entering a NAI, NAII, Phlebotomy, or Autism class are required to begin a Criminal Background Check and Drug Screening (CBC/DS) before they can register for class. NOTE:  Autism only requires a Criminal Background Check—no drug screening required. For more information, please visit our Frequently Asked Questions for CBC/DS.
Courses
Requirements:
TABE Testing (no charge)
Required for students in:
Dorothy L. Lougee Nursing Assistant I Program
Dorothy L. Lougee Nursing Assistant I Refresher Program
Dorothy L. Lougee Nursing Assistant II Program
Medication Aide
Telemetry Cardiovascular Technician
Phlebotomy
Testing Locations and Times
Goodwill on the 3rd Wednesday of every month at 1 p.m.
Stokes County Center: Mondays at 10:00 a.m. and the first Wednesday evening of the month at 5:30.  1165 Dodgetown Road, Walnut Cove, Call 336.593.5402 ext. 1117 or ext. 1101 for more information.
Testing Takes approximately 2 hours.
Must bring for test
Picture ID and Social Security Card (with matching names)
Required scores are
Math 6th grade level
Reading 10th grade level
Note:
Students that do not meet the required scores may come to the basic skills lab to work on skills for future testing.
Students must retain a copy of test scores for Orientation and class registration.  Test results are not kept on file in Health Ed.  Test scores are good for one year.
Exemption: Students may be exempt from testing if a college graduate (proof of graduation required) or by providing college entrance exam scores and/or college English and Math courses to the Health Education Department for approval
Orientation
NOTE: Students must be at least 17 years old to enroll in any Health Education class that requires a clinical experience. A minor release form must be presented at the time of registration for any student under the age of 18.
Required for students in
Dorothy L. Lougee Nursing Assistant I Program
New!  FAST TRACK NAI & NAII PROGRAM
Good for one year due to changes in student policies and procedures.
Nursing Assistant Orientation:
Call 336.761.1002 for any questions
Must bring for Orientation:
Picture ID and Social Security Card (with matching names)
Placement Test Results to verify successful completion (or approved equivalent.  Contact the Health Education Department for verification of equivalent scores/classes.  336.734.7733)
High School Diploma/GED/High School Transcript OR College Diploma/College Transcript (showing graduation date)