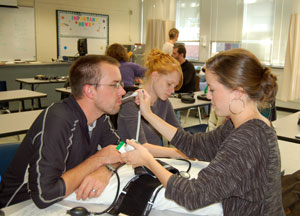 CNAI students in class
The Dorothy L. Lougee Nursing Assistant I Program
Course Description
This state approved course introduces basic nursing skills required to provide personal care for patients, residents, the elderly or others requiring medical assistance in a healthcare setting. Emphasis is placed on the aging process, communications, patient safety, patient's rights, personal care, vital signs, elimination, nutrition, emergencies, rehabilitation, and mental health. CPR certification is included in the class. Through classroom instruction, laboratory work, and clinical rotations, students are prepared to take the NC Nurse Aide I Competency Evaluation, a requirement in order to be listed on the NC Nurse Aide I Registry.
177 hours including 36 clinical hours.
Requirements
Successful completion – Math and Reading placement tests (or approved equivalent.  Contact the Health Education Department for verification of equivalent scores/classes.  336.734.7733)
Attend Nursing Assistant I Orientation
High School Diploma/GED/High School Transcript OR College Diploma/College Transcript (showing graduation date)
Picture ID and Social Security card with matching names
Estimated Cost
Registration: $180.00
Lab fee: $5.00
Liability Insurance: $18.00 (nonrefundable, valid for one year)
Parking permit: $25.00
Total (approximate): $228.00 + Books
Books:

NC Nurse Aide I
Forsyth Tech Community College Nursing Assistant I Program Policy Book
* all prices subject to change
Contact the bookstore (336.734.7754) for current textbook prices.
Not included:
ID Badge:  $5.00  You must present your registration receipt and receipt for ID payment in order to get your ID badge
Uniform
Criminal Background Check/Drug Screen (starts at $70.00)
Stethoscope and blood pressure cuff (optional, but recommended)
Career Readiness Certificate (CRC) ($30.00) – optional but recommended

State Certification Exam ($101.00)
For state certification information contact NACES at 888.282.6904 or visit www.pearsonvue.com (scroll to NC Nursing Assistant and Medication Aides)
Important Information Regarding Challengers:
The State of North Carolina no longer allows individuals to challenge the NC Nurse Aide I exam.  As of February 29, 2016, anyone not in the system to challenge the state test will have to complete a state approved NC training program. The only exceptions to this rule are:
Persons currently listed on any state's Nurse Aide I registry
U.S. military who have completed medical corpsman training
Retired or non-practicing nurses