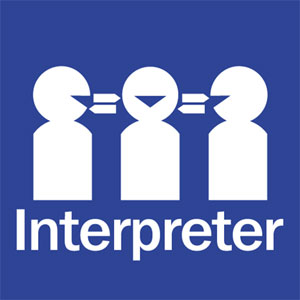 Interpreting in Health and Human Services
New orientations will be August 4th , 2015 at 10:00AM and 6:00Pm in room 36 of the West Campus.
If you are fluent in English and Spanish, if you like to help people, if you are interested in working in the health and/or human services field, and if you are looking to add a skill to your resume, then the Certificate in Health and Human Services may be right for you!
One of the fastest-growing needs of the health community is for qualified and professionally trained interpreters.  Interpreters must have a strong understanding and grasp of medical terminology and common words for those terms in both languages as well as cultural understanding of the Hispanic and American Culture.
Average Salary Range is $9-12 per hour for entry level positions with potential to earn more with experience and continuous training.
The Program
The Interpreting Program offers a certificate of completition. To obtain the certificate, the student needs to complete 243 hours (five classes) with a grade of B or better and a 45-hour practicum in one of our partner healthcare facilities. Classes can be taken face-to-face or online and are offered Spring, Summer, and Fall semesters!
National Standards, Professional Skills, and Ethical Practices for Interpreters: This course introduces the principles and standards for professional interpreters as established by the National Council on Interpreting in Healthcare. It also builds practical skills and job seeking tools.
Spanish/English Advanced Grammar for Interpreters and Translators: This course prepares students to improve their written proficiency in Spanish and English in order to function at the highest possible level as a professional interpreter and translator. The course will expand the student's knowledge in those two language skill areas before taking the Case Studies Translator Lab class. This is a pass/fail class.
Spanish/ English Medical Terminology: This course is an introduction to the principles of medical terminology for interpreters and translators in the medical field. It teaches the meaning and pronunciation of specific medical terms and the study of the body systems in both languages.
Case Studies Translator Lab: In this computer-based lab students will translate medical case studies from English to Spanish as well as Spanish to English. This class is also designed to develop and improve grammar, reading, and writing skills in both languages. Prerequisites apply.
Case Studies Interpreter Lab: During this lab students will interpret medical case studies from and into both languages. It's designed to improve consecutive and simultaneous interpreting skills. This class emphasizes listening and oral skills in both languages. Prerequisites apply.
Practicum: Once students successfully complete all four classes, the student will be assigned a practicum location. In order to pass this class, the student must do a forty-five hour practicum in which ten of those hours are shadowing professional interpreters and the rest, thirty-five hours are actually interpreting. Placement is dependent upon the student's availability as well as open positions at the facility.
Other Classes offered:

Spanish/English Legal Terminology for Interpreters: This course is designed to introduce bilingual individuals to legal terminology and ethics for court interpreters. This course does not prepare students for the state exam; it is an introductory course to the terminology.
Program Requirements
High School Diploma or HSED
Spanish/English Bilingually literate individuals
Must attend orientation to register
Take the English and Spanish Standardized Test (TABE)
Basic Computer Skills
Now offering workshops for current interpreters every semester.  Find the most updated information here.
For more information please call 336.761.1002