Convenient. Affordable. Comprehensive.
Forsyth Tech online courses.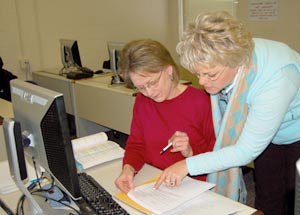 Forsyth Tech offers a wide variety of Continuing Education courses online. All you need to take an online course are Internet access, an e-mail address and a Web browser. It also helps to be able to stay on a routine class schedule.
NOTE:  Some online courses require additional software.  Please ask the Customer Service Center for more information regarding your course.
Online Ed2Go Courses last 6 weeks and run the gamut from career training to personal enrichment. Ed2Go courses allow you to learn a language, a computer program, a skill or a hobby from the convenience of your home or office.
Questions?  View our Ed2Go FAQ.
NOTE:  Registration Deadline for Ed2go/Online courses is by Noon on the day that they begin.
Blackboard Courses
Blackboard courses will be offered every semester through the Medical and Human Services program to prepare students for professional certification.  For more information, view our catalog. See pages 12-13.
Medical Terminology (Prerequisite: High School Diploma or GED®.  This course requires a textbook.)
Medical Coding – CPT (Prerequisite: Medical Terminology.  This course requires a textbook.)
Medical Coding – ICD-10 (Prerequisite: Medical Terminology.  This course requires a textbook and an access code.)
AAPC Certification Exam Review (Prerequisite: Medical Coding CPT and Medical Coding ICD-10.  This course requires a textbook and an access code.)

These four classes prepare students to take the AAPC National Exam. Medical Coding CPT, Medical Coding ICD-10 and the AAPC Certification Exam Review all require current edition coding reference manuals.

Medical Assisting Review (For More Information Contact Anna Hilton at 336.734.7362)
Other online courses:
Anatomy and Physiology for Non-credit Students (Prerequisite: None.  This course requires a textbook.)
To register, call 336.761.1002