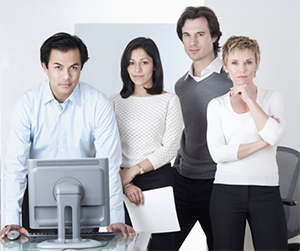 Corporate Training
Whether your organization is interested in improving the hiring process, building leadership or workforce skills, providing extraordinary customer service, or improving the management of employees' day-to-day performance, Forsyth Tech Corporate Training can customize a training plan built to meet your specific educational needs.
Forsyth Tech Corporate Training also proudly partners with Development Dimensions International, Achieve Global , and Logical Operations, three leading educational providers known world-wide for their high quality educational and development programs.   Choose from a range of courses that, when taken together, improve your workforce's overall performance or, when taken selectively, let you pinpoint areas to improve.  A needs analysis allows you to focus your program selection and tailor it to the needs of your audience.
Modules can be fully customized to meet your business needs.
Delivery is variable, from 4 hours to multi-day.
Courses can be delivered onsite at your place of business, or at one of Forsyth Tech's many locations.
View or Corporate Education Catalog.
Corporate Training Topics:
| | |
| --- | --- |
| ~        Accountability | ~        Leadership and Management |
| ~        Change Management | ~        Meeting Management |
| ~        Coaching and Performance Evaluation | ~        Myers Briggs and DiSC |
| ~        Communication and Interaction Skills | ~        Negotiation |
| ~        Compliance | ~        Organizational Development |
| ~        Conflict Management | ~        Performance Management |
| ~        Customer Service | ~        Problems Solving/Decision Making |
| ~        Diversity and Harassment | ~        Project Management |
| ~        Effective Business Communication | ~        Quality/Process Improvement/Six Sigma |
| ~        Emotional Intelligence | ~        Sales Effectiveness |
| ~        Expert OJT | ~        Technology Training |
| ~        Finance | ~        Team Building |
| ~        Human Resources | ~        Time Management and Prioritization |
For a free needs assessment or for more information about Corporate Training,
contact Mack Thompson at 336-734-7717 or wthompson@forsythtech.edu