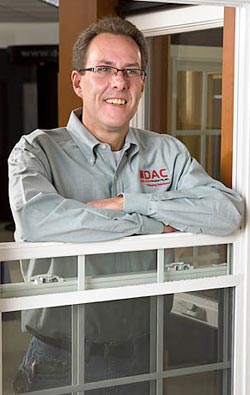 For companies like DAC Products, Forsyth Tech is a goldmine.
Tony Smith, President
DAC Products
Founded in 1987 by the late Durward A. Smith Jr., DAC Products originally made laminated cores for storm doors, then went on to design, engineer and manufacture carrying cases and showroom display cases for windows and other products. More recently the company has been manufacturing a line of wood furniture for Kaplan Early Learning Company, bringing back to North Carolina work that had been done offshore. Soft-sided display cases are sewn, and often printed or embroidered, for a variety of customers. DAC also makes complete retail environments for display of products. The company has a large facility at East Bend, which includes space for warehousing and shipping products, and a plant in Rural Hall.
By virtually any measure — sales volume, employee satisfaction, innovation, quality, retention of customers, rapid growth — DAC Products is highly successful. And like the products it makes, the business has been painstakingly hand-crafted, by its three current owners, Durward III, Anthony and Chris Smith, the sons of the company's founder.
For companies like DAC Products, Forsyth Tech is a goldmine. Tony Smith, the company's president (and a Forsyth Tech graduate), recently arranged a year of development experiences for his employees. Since the company has operations in two counties, Forsyth Tech and Surry Community College are working together to provide all the on-site training DAC Products requested.
During this year employees will receive training in specific jobs, and also in Lean Manufacturing, leadership and teambuilding, and office and computer skills. Company President Tony Smith is also exploring employees' interest in an after-hours GED program, and in English as a Second Language and Spanish as a Second Language.
As a company that is creating new jobs in North Carolina, DAC is eligible for grants from the state to cover much of the costs of training.
And Tony Smith's faith in Forsyth Tech doesn't stop at the factory door. His younger son Thomas is a student at Forsyth Tech's Middle College.