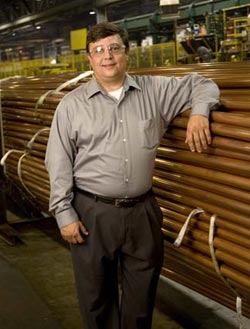 "I can't say enough about the faculty and administrative personnel I've worked with at Forsyth Tech."
Brian Alley, Training Program Manager
Wieland Copper Products
At the Wieland Copper Products plant in Pine Hall, state-of-the-art manufacturing equipment from Germany and Austria is arriving almost every week. It's all part of a $71 million upgrade that is creating 65 new jobs over a period of three years. With almost 500 fulltime employees at the facility, Wieland is already Stokes County's largest private employer, and pays wages well above the county's average.
Most of the employees at the plant are engaged in the manufacture of copper pipe and tubing for the air conditioning and plumbing industries. Almost all the pipe they make is for the North American market.
"Most of our competitors have moved their manufacturing operations to Mexico," says Brian Alley, Training Program Manager at Wieland, a company formed by Japanese steel maker and a German metal company. "The plan here is that the combination of new technology and experienced workers will pay off better than moving offshore."
For the skilled workforce it needs, Wieland depends heavily on Forsyth Tech. "I can't say enough about the faculty and administrative personnel I've worked with at Forsyth Tech," says Alley. "They've gone out of their way to remove the barriers to education faced by our labor force."
Alley went on to name a dozen Forsyth Tech staff members who have worked with him on everything from computer training to GED to co-operative education. One innovative training initiative is a two- to three-year apprenticeship program that involves course work at Forsyth Tech and in-house plant-specific training. Of the 14 apprentices in the program, four are high school seniors. The students go to high school in the mornings, take classes at Forsyth Tech some afternoons, and work at the plant on the other afternoons through a co-op education program. The company pays the students an hourly wage both when they're at work and when they're attending their college classes. The apprentices will end up with valuable credentials as well as skills, an Industrial Systems Technology machine operator's certificate, and a state-issued journeyman card.
Alley is a big believer in apprenticeship programs and he traveled to Germany to learn how to set one up. Machine operators don't always learn how equipment works, but Alley thinks that is important.
"These guys will have the theoretical background to handle situations where the machine doesn't do what it's supposed to do," he says.
That kind of knowledge supports the company's production goals, by cutting down on expensive downtime, but that's not the only reason why Wieland wants well-educated employees.
"People enjoy their job more when they're more involved and know more," Alley says. "In the first part of the apprenticeship, they go through all parts of the plant and get to understand the big picture. That understanding makes a difference in safety and in turnover. Our company is making an investment in the people to match the investment in equipment."