Small Business Success Stories
Adam Bartley
What is going well?
Customers that are trying our service are loving the finished product.  People are truly blown away by the quality of the car wash they are receiving in only 3 minutes.  I've also been pleased at the engagement of our customers with the car wash.  We've had multiple customers come into the office or post on Facebook to tell us how much they love how shiny their vehicles look.  Parents tell us their kids love to come and see the 'laser lights' and help vacuum the car afterwards.  I've even seen many customers with their cell phones in the hand recording their trip through the car wash because it's such an experience.
Describe two or three big successes in the past six months?
Our first big success is getting open.  This has been something that's been in the works for my wife and I for about 3 years now and so to see it finally open and serving our customers is something we're really proud of.  Our next big success is building our time.  Finding good people to work for you can be intimidating when launching a new business but we feel very fortunate to have such a quality and diversified team.  We have people with a range of skills from former Army and current reservist to experienced auto professionals.
Describe a big challenge moving forward?
Our biggest challenge moving forward is communicating to potential customers how we're different than existing car washes.  People see "Car Wash" in our name and automatically assume we're like every other wash.  We offer a new model focused on speed and value with a 3 minute high quality wash and free vacuums plus unlimited monthly plans.  We are planning to use several marketing channels to continue to spread the word about what makes us unique.
What assistance is needed from SBC?
Running a business today requires you to wear so many hats.  As a car wash owner, I not only have to ensure that my customer's are receiving the best clean, dry, and shiny car every time they come but I also have to deal with marketing, technology, accounting, and more.  The great thing about the SBC is I've taken classes there on each of those subjects to our benefit.  Moving forward, I expect to continue improving in all those areas with the help of the SBC.
Who else needs to know about our services?
Any business owner, new or experienced, could benefit from SBC's services.  If you are just getting started with your first business like me they offer great introductory courses.  But even an experienced owner could benefit from learning new ideas for marketing, technology, etc.
Lindsay Dinkins
What is going well?
I'm really blessed to be where I am, to create a business in which I am doing what I love and helping other businesses to succeed and grow as well. I have received numerous word of mouth references for work. Because of the classes and mentors I have through the SBC, I have managed to become far more productive than I was when I started out and have created a system based on small increments of focus applied to deadlines and projects. Also, thanks to the SBC, I have met so many amazing people doing incredible things who I now network with and have grown relationships with who have gone through similar things that I may be going through and who are always available with advice.
Describe two or three big successes in the past six months.
As an "Ideal Introvert," it's hard for me to speak in public without sounding nervous or "un-confident" in what I do. One massive success is having taught my first (of many) seminars. And though I was nervous at the beginning, having moments of, "What in the world am I doing?," I pushed through and by the middle, was a total natural (as many of the participants told me afterwards). That confidence of knowing I lived through something like that and how well received it was made me realize that though I'm an introvert, I can't allow that to keep me down, which is totally something you, Allen, have been telling me for months now. I guess I had to experience it to believe it. Another massive success came on the forefront of my business itself. I love working with small businesses as their passion for their own business is something I feed off of. I also really love brainstorming one-on-one with their wants and needs within their business marketing front. However, I've been pushing myself to try to get to know a few larger companies for larger, higher-paying projects. A few weeks ago, a lady came to via LinkedIn (having received my name from someone at the Small Business Center) and asked for a meeting. When we met, she explained the scope of the projects she needed completed very soon, which was much more than I have completed in the past. Basically, she was exactly what I was looking for. I will be putting in my proposal early next week to become her Marketing Manager/Consultant—a super exciting moment for me and a huge success for the business.
Describe a big challenge moving forward.
My business has thrived on word-of-mouth, which can be very slow. Though I know I should be cold-calling as a new business, it's something that is very difficult for me. I have a business accountability partner who is helping me to get over this fear currently and though it will never be the biggest challenge I will face, it seems like a mountain to me right now. I plan on doing my first batch of cold-calling early next week. I'll have to let you know how it goes.
What assistance is needed from the SBC?
I would love a class or mentor in which together you can cold call businesses. Then, once the call is over, the mention/teacher/partner can help explain what went well, what didn't, and perhaps some ways of improvement. It's a weird idea, but for small businesses getting started, it could be an opportunity.
Who else needs to know about our services?
There are so many mom-and-pop type startups that don't realize the gem that is the SBC in their backyard. These same businesses could end up with a sky-high tax bill next year, for example, because they didn't know of the tax classes SBC offers. This especially is true with blue-collar service companies like landscapers and plumbers. Though I know this to be true, I can't offer any specific companies myself.
Ja'Net Adams
Ja'Net wrote the following testimonial about the Small Business Center:
"The Small Business Center has been a TREMENDOUS resource for me over the years! I have attended seminars through the SBC before my company started up until now. They have experts on board who are able to help me navigate various aspects of my business which is an immeasurable asset. I would recommend the SBC to anyone with or without a business."
The reason that she decided to start her business was that she recognized a global problem. People were suffering with their finances and didn't know how to control their money. She had paid off nearly $50,000 in two and a half years and knew that she could show others how to do the same. EMACK Consulting LLC was born! She decided on the name "Dream Girl" because she helps people live their dreams. Everyone has dreams, but too many go through life without those dreams becoming reality because of their finances. When she shows people how to control their money and become debt free, they are able to start working towards bringing those dreams into reality.
Her biggest challenge has been delegation. She likes to keep her hands on everything because she feels that she can do it better than anyone else and that it will be right. Her second challenge when first starting out was to realize that she cannot go to H&R Block for her taxes anymore. When her business grew, her taxes became complex. Someone introduced her to her CPA and it has been smooth sailing ever since. The third challenge was to understand that she can't take on every speaking engagement. She wants to help everyone that she can when it comes to finances, but in the beginning that led her to saying yes to speaking engagements that were complimentary or way below her fee. She stopped that once she went full time because she realized the most important treasure in her life is her time.
Her three biggest accomplishments:
Writing her first book "Debt Sucks!" and it being well received.
Being the featured story and the first Non-CEO African American in the top spot on BizWomenJournal.com.
Being able to take her son on her WFMY News 2 Debt Sucks TV segment.
Her two suggestions for other small business owners are (1) to use social media for their business and (2) to charge their value. Thanks to social media, she has no boundaries when it comes to business. She is able to interact with clients all around the world through Twitter and those clients are able to see her content through Facebook and her media appearances on LinkedIn. Clients are able to see her speaking style on YouTube and see how she practices her financial philosophy on Instagram through pictures. She now charges for her value. When she first started out, if she went to speak to 100 college students about financial literacy, she would back down if someone didn't approve of her $2,900 fee. In reality, the tuition to go to the college was $20,000 a student per year. If she was able to show one student out of that one hundred how to get control of their money so they don't drop out, she just made that college $20,000. Once she saw her value, she started charging even more and now she doesn't back down.
Michael and Emily Roels
We decided to start Essential Balanced Bodywork because we wanted to help people suffering from pain heal with a therapy that most people don't know exists. We also wanted to provide a high quality advanced level of massage therapy that would enhance our client's quality of life.
Essential:  We all have a body and it is the most amazing machine on earth. All machines need maintenance.
Balanced:  Taking a holistic approach to create an individualized treatment for each client. Treatments are based on past and present mental and physical traumas including car accidents, injuries, surgeries, etc.
Bodywork:  As licensed massage therapists we have the ability to manipulate soft tissue in the body, which are muscles. Most traditional therapies focus on one's symptoms, not the underlying problem. Typically, what's causing the symptoms are not located where we feel our pain.
Our three biggest challenges have been:
Overcoming the stigma of what most people think about massage therapy. Massage chains offer low prices for massage. Typically there is a high turnover and your therapist is more than likely new to the profession.
Time management; to be a great therapist you need to take care of yourself and not burn yourself out.
Choosing the proper marketing techniques for your type of business. There are many options for advertising and some are very expensive and ineffective.
We are pleased that our three biggest accomplishments are:
Helping hundreds of people in our first year experience relief from their pain when traditional medicine and other therapies were ineffective.
Being elected as a board member of the Lewisville-Clemmons Chamber of Commerce, which was a huge honor.
Being asked to serve on the Advisory Board for the Small Business Center at Forsyth Tech at Innovation Quarter.
One thing that we would you do differently is to have interviewed more people for creating our original website.
Our suggestions for current or existing business owners are as follows:
Networking groups are a great resource for a new business.
Get involved in the community.
Work hard but don't burn yourself out.
Be patient.
Have faith in your purpose.
Have fun!
Emeka Anazia and Carrie Anazia
Emeka and Carrie both achieved great success in college, while overcoming great adversity. During college, they always found ways to mentor current college freshmen and anyone who was college bound. Upon graduation they both wanted a way to continue sharing their tools of success, but on a grander scale. Therefore, they created Acing The Undergrad. Emeka and Carrie believe that every student can be successful in college if they are aware of the college fundamentals and consistently apply them! Emeka and Carrie's goal is to make this a reality for each student who desires to become a college graduate. We recently interviewed them.
1. What is going well?
Our next wave of products, new website, and upcoming web series is going well for our business. We have successfully finished our pilot Acing The Undergrad mentoring program, and will be ready to make it a national program next year.  View it here.
2. Describe two or three big successes in the past six months?
Our book, Acing The Undergrad: Your Personal Mentor, has been accepted by two colleges to be used as instructional material in their freshman orientation classes. We are also partnering with local high schools by providing our services to their students.
3. Describe a big challenge moving forward?
Our biggest challenge moving forward is creating exposure for our business. We are working diligently to get our name out there, so people can know about our resources and services for college students.
4. What assistance is needed from SBC?
We would love assistance with brand awareness from SBC.
5. Who else needs to know about our services?
The SBC is a great resource for any business owner, especially new business owners, and anyone thinking about starting a business. Its a great place for entrepreneurs to learn about starting or growing their business. Being involved with SBC is also great for networking with other small business owners.
Dawn Peters
Black Mountain Chocolate is a purveyor of small batch artisan bean-to-bar chocolate located in Reynolda Village and Trade Street in Winston-Salem. Dawn Peters, the company's Creator of Chocolate Happiness, contacted the Small Business Center to discuss it's services.
"I'm a former teacher, and deciding to purchase Black Mountain Chocolate with my husband, Brent, a tax attorney, is a second act for us," Dawn says. "I had no retail experience before opening up our retail shop in Reynolda Village in November 2013. My 10 one-on-one counseling sessions with Allan were invaluable. Our business involves marketing, finance and production—we can't be experts in all of them, so that's why I consulted with Allan."
Before opening their production facility on Trade Street the Fall of 2014, Dawn took face-to-face classes in the Small Business Center in QuickBooks and social media marketing, as well as online business modules that she could explore at her own pace.
Is it too early to tell if all the careful preparation is paying off? "Sales so far are well above expectations," says Brent. "We believe our early success came directly from Dawn's one-on-one counseling with Allan."
Krishauna Hines-Gaither and Julian Gaither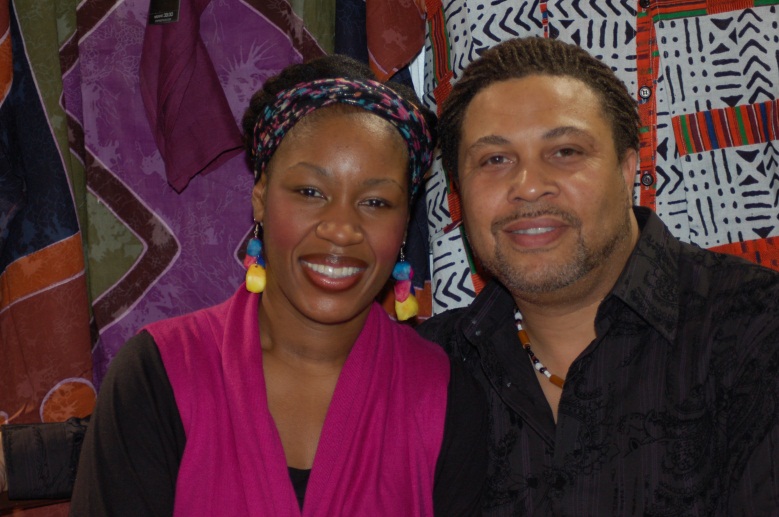 Julian Gaither's church in Clemmons supports an orphanage in Kenya. Every two years, he travels there on a mission trip. When he returns, he brings back beautiful jewelry from a local market for his wife, Krishauna.
Their friends loved the jewelry, Julian says. "People made a big deal about it," he recalls. "So we thought, well, maybe we could make a business out of this. It would be a way of giving something back to the community."
The next step: Julian and Krishauna (a Forsyth Tech alumna and Spanish instructor at Salem College) contacted the Small Business Center. "I met there with a counselor, Dick Vann, initially, and I took a few of the small business courses. The people were really helpful and encouraging," Julian remembers. "It made a tremendous difference; it gave me the confidence to go ahead and pursue it and see what I could do."
Once he made that decision, Julian contacted people at the orphanage, sent some money over and asked his friends there to buy some jewelry at the local market. He and Krishauna rented a kiosk at the Marketplace Mall on Peters Creek Parkway and the business took off.
"The jewelry is from the Masai people," Julian notes. "They have an open market there every Friday; that's where I would go to get gifts to bring back home."
As the business grew, it also branched out. "Now we also have things from Nigeria, Ghana, Senegal, Liberia, China and India," Julian says. Although the business is for profit, he sends back a portion of his profits to the orphanage in Kenya.
The business celebrated its first anniversary on April 15. February was a particularly good month; "We had a lot of shoppers because it was Black History Month. It was great. We've had a tremendous amount of support from the community."
Imani African Jewelry and Accessories is located in the center aisle kiosk at Marketplace Mall, 2101 Peters Creek Parkway in Winston-Salem, and is open Friday and Saturday from 10 a.m. to 8 p.m. with
extended holiday and summer hours.
Ken Craven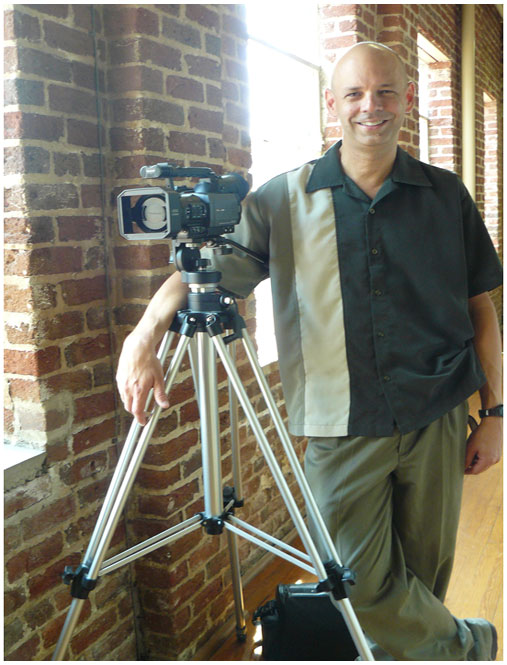 When Ken Craven was laid off in September 2009, he did his best to find a job doing what he had been doing for years: video production. But after sending out about 500 resumes and getting only a few interviews (and no job offers), Ken decided a change was in order. "I had a few of my previous clients call me that were interested in having me do video production and my first reaction was, 'Absolutely not. I'm never going to do that again,'" Ken recalls. Instead, he developed an idea for a wholesale import company, and went to the Forsyth Tech Small Business Center to get some advice on how to set up the business. There he met with Richard Vann who, after talking to Ken, steered him in a different direction – backwards.
"He really helped re-direct me back into what my real profession was," Ken says. "He thought since clients were seeking me out that I should re-think the video business. So I gathered my equipment and started free-lancing, and the freelancing has developed into me starting my own business." The guidance and support he's received at the Small Business Center, Ken says, has been vital in many ways. "They helped me out with direction and also just understanding what needs to be done as in filling out the paperwork, understanding the process, the little things, the basic things so many people don't understand. The average person who's never owned their own business has no idea the amount of paperwork and red tape that goes on to get a business started."
Now, with his freelance business growing, Ken isn't interested in finding a fulltime job working for someone else. Instead, he prefers to grow his own business. "It's rapidly going from freelance producer to small business owner," he says, and credits the Small Business Center with helping make that happen. "They played a pretty big roll."
Barry and Pamela Johnson
In August 2013, Barry and Pamela Johnson began their relationship with the Small Business Center at Forsyth Tech. They participated in our seminars during their quest to embark upon a new business venture.  They continued to participate in seminars and engage in business counseling.  They have now started their business and meet with a business counselor on a monthly basis.
The Johnsons decided to start their own business because they wanted freedom over their time, independence, and the pride of being small business owners.  They firmly believe that small business owners are the backbone of our country.   They bought into the franchise of Zippy Shell which is a mobile self-storage and moving business.  They chose Zippy Shell because its model provided a well-laid plan to be successful in business. The business is asset-based and the start-up phase did not require other employees. Also, there is no perishable stock, and they liked the idea of providing a needed service to the community.
The Johnsons three biggest challenges have been and still are capital, marketing, and unresponsive vendors.  Daily expenses quickly eat up their revenues during the startup phase.  We will continue to work with the Johnsons regarding revenue generation and cost management.  Finding the right marketing strategy has been a significant challenge also. Surprisingly, they have had a big challenge with unresponsive vendors.  We will continue to work with the Johnsons regarding marketing strategy.  Unfortunately, other small businesses have proven to be in no hurry to provide the Johnsons with their services.  We will continue to work with the Johnsons regarding vendor management.
The Johnsons three biggest accomplishments are as follows:
Getting everything in place to start this venture.
Being asked to be a part of the media tour of Forsyth Tech at Innovation Quarter.
Stepping out of their comfort zone and acquiring new skills.
I asked them what two things they would do differently.  Their response was that they would have started taking the seminars at the Small Business Center sooner.  They feel that they missed some seminars that could have helped during the startup stage.  They also would have acquired more capital before starting.
Piedmont Zippy Shell has several customers and numerous inquiries each week.  Their marketing efforts have created a buzz here in the Piedmont Triad.  I am very pleased that we will continue to partner with the Johnsons as they experience even more success.