Christopher Lawrence, Career & College Promise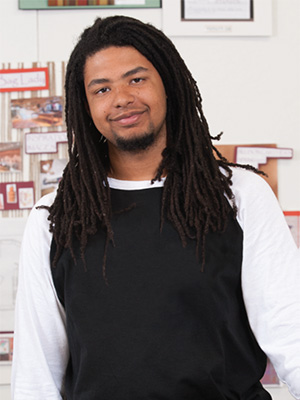 "The beautiful thing about going here before going to State is that I can get a lot of my core classes done, and it's cheaper."
At 18, Christopher Lawrence says he has learned more quickly than most high school students to take responsibility for himself. A student in the Career and College Promise Program at Forsyth Tech, Chris is aiming to graduate next spring with his Associate's Degree in math, then transfer to NC State.
"I guess it's the whole pre-college vibe," he says. "It really makes you take responsibility more quickly. For instance, I know I have a break between classes – I can use that time to go and lounge around or to study. I know when I go off to a four-year college I'll find the same thing."
He'll also be prepared to absorb information more quickly. Classes that take a year in high school are offered in one semester at Forsyth Tech. "I realize I am getting more information, and I am getting it quicker," he notes. "While some of my friends are still in pre-calculus, I'm now moving on to calculus."
Home-schooled since the fifth grade, Chris heard about the Career and College Promise program from a friend. Both are heading to NC State. "Our goal is to become mechanical engineers. We chose NC State because it has one of the best mechanical engineering programs, and it's also well known for its co-op program." This will allow Chris to get work experience in his field while he's still in school.
"The beautiful thing about going here before going to State is that I can get a lot of my core classes done, and it's cheaper," he notes. "I can get that out of the way early on."
Download this story in PDF format 
.