Renee Pope, Career & College Promise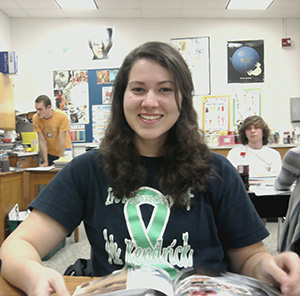 "I like to go over and beyond what's expected of me."
Renee Pope is a young woman with purpose and ambition. As a senior at East Forsyth High School, she enrolled in the Finance Academy, a program that allows students to take finance-related courses at Forsyth Tech while still in high school.
"I'm taking business financial planning," she reports: "It's giving me an overview of investments, stocks, bonds, accounting. I'm also studying international business, learning what it takes to expand a business overseas."
Renee is planning to attend Forsyth Tech full time in the fall to study both nursing and business.  She's aiming for an associate degree in nursing, then to continue at a four-year college. "I plan to get a BSN in nursing," she asserts.  "But first I'm aiming to become a registered nurse."
The Finance Academy is designed for students with a wide range of interests, and Renee is a good example. "Studying business helps me to be a well-rounded person," she argues.
Her family background reflects both interests: her mom works at Wake Forest Baptist Medical Center as a patient financial counselor.
"I'd like to work in a hospital setting," Renee says. "I love to meet and talk to new people.  I do that very well. And I like to go over and beyond what's expected of me."
Download this story in PDF format
.