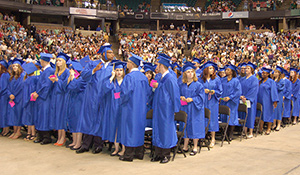 A degree, diploma or certificate from Forsyth Tech opens doors.
If you're looking for a degree, diploma or certificate that will take you places, Forsyth Tech is the place to start.
Our Credit Track section can give you information on more than 200 degree, diploma and certificate programs available at Forsyth Tech, including our College Transfer program.
If you're wondering "Why Choose Forsyth Tech?" we have a whole list of good reasons.
How To Get Started is a handy roadmap to all the different information on our website.
How To Apply explains the process in a few simple steps.
Our Tuition and Fees page can tell you what it will cost to attend Forsyth Tech.
How To Register For Classes explains the different registration options available to you (all very simple).
How To Pay For Classes explains our convenient payment plans.
Our Campus Life section can tell you what it's like to be a student at Forsyth Tech.
If you're curious about the college, our Discover Forsyth Tech section can tell you what you want to know.
Forsyth Tech Degree Program Success Stories
Meet some real students, find out where a degree at Forsyth Tech can take you…
For Kyle Nichols, who enrolled at Forsyth Tech at 14, the path led to the Wake Forest University School of Medicine.
For college transfer student Andrew Buckles, the destination was UNC-Chapel Hill.
For Lindsey Butner, another college transfer student, the journey that began at Forsyth Tech has taken her to North Carolina A&T where she is pursuing a bachelor's degree.
For college transfer student, Oscar Alonzo, a degree in Business Administration will allow him to advance in his company.
For current student Lindsey Candelaria, discovering a passion for working on cars has lead to a dream of someday owning her own business.
Make the right choice and go to Forsyth Tech, because from here you can go almost anywhere.