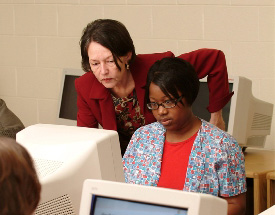 Helping Students Find Jobs
Forsyth Tech Job Openings
Please address correspondence to:
Forsyth Technical Community College
ATTN: Human Resources
2100 Silas Creek Parkway
Winston-Salem, NC 27103-5197
Phone: 336.723.0371
The Human Resources Office is located on the Main Campus in the Allman Center, Room 202.
Mission Statement
We are a collaborative team of professionals dedicated to integrity, efficiency, and problem solving.
We strive to be your employer of choice in education.
We treat each person as a valued customer and support all departments and programs at Forsyth Tech.
We provide guidance and leadership in the consistent and equitable administration of policies and procedures to improve employee welfare, empowerment, and retention.
We maintain a healthy, positive work environment.
We seek to recruit the most qualified people while recognizing and encouraging diversity in the workplace as a reflection of the community we serve.
Hours of Operation:
We are open from 8:00 am until 5:00 pm Monday through Thursday, and from 8:00 am until 3:00 pm on Friday.
Occasionally, the office may be temporarily closed or have restricted hours—a sign with instructions will be posted. If the reception area seems empty, please check the inside offices, rooms 207 and 208, for help.
If you are unable to visit us during regular hours, please call 336.723.0371 and we will attempt to make arrangements to provide you with the best service possible.
View the employment application form and instructions here.
View the current position vacancies here.