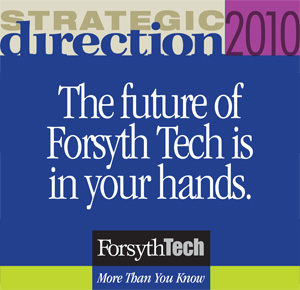 Strategic Direction 2010
From time to time it is valuable to take a completely fresh look at our strategic direction. The year 2009 was such a time. Forsyth Tech's enrollment was increasing dramatically, putting a strain on many of our resources. The ways and venues in which we deliver our programs were expanding. The people who were looking to Forsyth Tech for immediate job training and retraining were more numerous and diverse than ever before. Our corporate training people were assuming more of the on-site education and development required by businesses and non-profit agencies. And the deep recession had emphasized the gap between the skills local workers have and the skills required in the shift from a manufacturing-based economy to a global, knowledge-based economy.
In this fast-moving environment, we needed to be sure that we were meeting the needs of students, businesses and our community, quickly and effectively. We also needed to be sure that we are using the resources we have as efficiently and productively as possible. During 2009, we involved the entire college community – students, staff, faculty and trustees – in looking at what we were doing well, what we could be doing better, what the real priorities were, and what should be our goals for the next few years. Individuals expressed their ideas in surveys and focus groups. The Strengths, Weaknesses, Opportunities and Threats and strategic themes that emerged were further refined at a two-day planning session that involved a cross-section of the college community and local business leaders.
The result of this inclusive process is a detailed set of goals, all linked to five major Strategic Initiatives that in turn are derived from our Mission Statement and Core Values. Specific tactics have been developed for each goal.
This Strategic Direction 2010, these goals, will guide us in how we do our work day to day. We will measure our progress all along the way. And this comprehensive plan will help to assure that our decisions and actions will all be focused on what is most important to our stakeholders.
Dr. Gary M. Green
President, Forsyth Tech
Download Our Strategic Direction 2010