Biotech Student, Kathy Proctor, to Sit in First Lady's Box
(WINSTON-SALEM, January 24, 2011) – Kathy Proctor, a second-year biotech student at Forsyth Technical Community College in Winston-Salem, NC, has been invited by the White House to share the First Lady's box during the President's State of the Union address tomorrow evening.
According to Proctor, she received the call from the White House on Wednesday, January 19th. "I was driving down I-40 to meet my daughter for lunch when they asked me if I'd like to sit in the First Lady's box in the gallery," she said. "I was totally surprised by this amazing and unexpected invitation. It's such an honor."
Proctor, who is 55 and a single mom of twin 18-year-old daughters, first drew President Obama's attention during his tour of Forsyth Tech's biotech labs on his December 6, 2010, visit to the college. At that time, Proctor explained to the President that she had been employed in the struggling furniture industry for 30 years. "He asked me if I had seen the layoffs coming," she said. "I told him I decided to retrain for a new career because those furniture jobs kept disappearing." Proctor said she chose biotechnology, because she recognized it as an emerging field that will offer the jobs of the future.
"As we look back at President Obama's visit to Forsyth Tech last month, we are realizing how strategic that trip was," said Dr. Gary Green, President of Forsyth Tech. "The President was clearly interested in hearing about our students' focus on improving their skills to better meet the changing demands of the global economy, which is a priority for this Administration."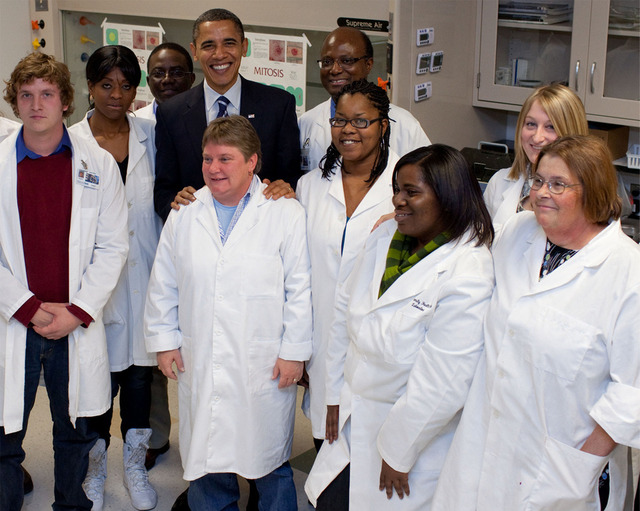 PHOTO CAPTION: Kathy Proctor, far right (with glasses, left hand in pocket), seen here with classmates during President Obama's tour of her biotech lab at Forsyth Technical Community College on December 6, 2010.