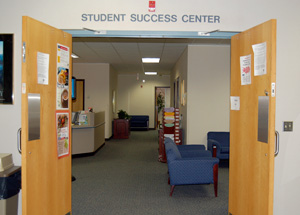 Your success is our goal.
We're here to help you get there.
Filling out forms. Standing in lines. Trying to meet deadlines. We understand that the business of going to college can sometimes be intimidating and frustrating. That's why we are glad to take the time to discuss anything from your financial needs to your academic performance, and to provide the help you need to solve any problems you may have.
Through our many student support options, we are able to help with everything from registration and financial aid to dealing with personal issues or providing motivation and guidance.
For campus life outside the classroom, our sports activities, clubs and Student Government Council provide ample ways to expand your horizons.