New friends. New activities. New ideas. Expand your horizons at Forsyth Tech.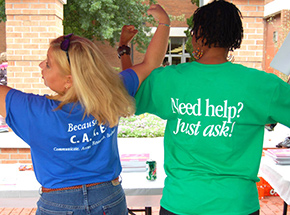 Forsyth Tech has many ways to grow and develop outside the classroom, from writing poetry in the Creative Writing Club to staying in shape with a game of intramural volleyball. To learn more, contact Beverly Lewis (336.734.7512, blewis@forsythtech.edu) or Daisy Cutler (336.734.7509, dcutler@forsythtech.edu), or come by the Student Activities Center (Technology Building, Room 124).
Clubs & Organizations
Forsyth Tech's wide variety of clubs and organizations offer every student the chance to do things they enjoy while meeting new people, making new friends and interacting with like-minded folks.
Student Government Council
Participating in Student Government Council at Forsyth Tech offers you a chance to develop leadership skills and serve the school and your fellow students.
Alpha Mu Beta
Alpha Mu Beta (AMB) is the service fraternity of the SGC. This group of students focuses their efforts on campus and community service. They take the lead in such projects as Relay for Life, the Angel Tree Project, and campus blood drives.
Intramural Sports
For the sports minded, Forsyth Tech has intramural volleyball, basketball and bowling leagues. All skill levels are welcome.
Student Activity Fee
All curriculum students pay the student activity fee when they register and automatically become members of the Student Government Association. These fees pay for the Student Academic Planner, the newsletter Technically Speaking, maintenance of the ID system, and commencement regalia. Student activity fees also sponsor all student events. Student Activity fees are collected in the fall and spring semesters only.