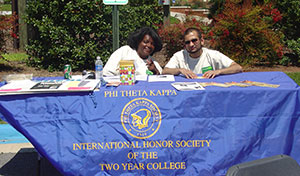 Clubs and Organizations
Get excited. Get creative. Get together with like-minded friends to talk, sing, work in your community, or just work on cars. Whatever your interest, there's a club or organization at Forsyth Tech for you. And if there isn't, then start one!
The Architectural Technology Club promotes architectural education, recognizes outstanding academic achievement, and provides related services to Forsyth Tech and the community.
Chessknowlogy Club. Whether you're a casual player, or looking for serious competition, the Forsyth Tech Chess Club is the place to go for a dance on the 64 squares.  Chess is a sport, an art, and science that taught our ancestors Astronomy, Poetry and mathematics.
The Creative Writing Club exists to nurture and promote creativity and success among writers of all genres.
The Criminal Justice Club (Sigma Theta Kappa) seeks to prepare its members for a career in the criminal justice profession.
Future Advocates for Children of Tomorrow (F.A.C.T.) supports the Forsyth Tech Early Childhood Education curriculum and existing child care programs in their efforts to provide quality education for young children. It also promotes increased awareness of the need for Early Childhood Education training.
The Geology Club provides an opportunity for students and faculty to expand their understanding of Geology and related fields through programs, field trips, and knowledge sharing. It includes examinations of career opportunities, the impacts of human activities on the physical world, current events, natural resources and selected topics of interest to participants.
The Hispanic Student Association strives to promote Hispanic culture on campus as well as provide an open atmosphere in which Hispanic students can interact with one another.
The Interior Design Club promotes an interest in interior design through activities and events related to the field. Club members take a trip at the end of the year to learn more about design trends outside of the community.
The International Club is open to any student who is interested in learning more about other cultures. The group offers support to international students and sponsors several activities throughout the year including cultural events, educational forums, and trips.
The Journalism Club encourages interest in journalism and other communication-related fields. Members exercise their communication skills regularly through writing and producing the student paper, Technically Speaking.
The Karate Club gets together to train in traditional Japanese karate.  The club welcomes both beginners and experienced martial artists.
The Motor Sports Club is a specialized organization that seeks to encourage an interest in motor sports on campus while presenting the world of competitive motor sports to its students.
The Paralegal Association tries to encourage an interest in legal matters on campus and prepares its members for career opportunities in the legal profession.
Peers Accepting Challenges Together is a club where students with disabilities can share experiences and find support.
Phi Theta Kappa is an international honor society of two-year colleges. Its purpose is to recognize and encourage scholarship among students on campus and provide opportunities for leadership and service.
Philosophical Society strives to seek truth, promote understanding, exhibit compassion, and model patience. This organization exercises and celebrates the First Amendment Freedom of Speech.
The Student Nurses Association consists of aspiring nurses and was formed to prepare these students for a career in the nursing profession.
The Student Practical Nursing Association was formed to prepare aspiring practical nurses for a career in this profession.
The Student Sonographers Association seeks to prepare students for a career in sonography.
Student Veterans Association of Forsyth Tech promotes fellowship among veterans and their supporters while raising awareness of military veterans.
Sustainable and Environmental Technologies Club encourages education and awareness of environmental issues and sustainable technologies.
The Transitions Club serves as a support system for those who have lost their jobs due to downsizing of companies placing emphasis on their emotional and educational needs that might differ from those of other students.