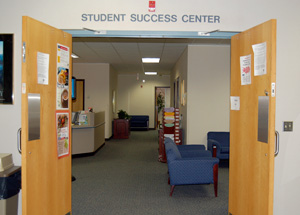 Career Counseling At Forsyth Tech
Career Services is located within the Student Success Center in the Allman Center in Room 148. The services we offer include:
Updated employment resources
Job postings database on the web for your convenience
Job Fairs and Career Days
Career and Personality Assessments
Individual assistance with resumes, cover letters, interviewing
assistance and tips on dressing appropriately for a job interview
Classroom presentations on employability skills
PC available to search for employment
We also offer a downloadable pdf of our Career Services Career Guide
, which contains information on topics such as:
The 4-Step Career Development Process
Why Is Self Assessment Important
Online Job Application Tips
Employable Skills Employers Seek
Career Tips for People With Disabilities
Tips to Get the Most Out of Career Fairs
Résumé and Correspondences
Interviewing
Coping with Rejection in the Job Search
Following Up With Your Career Development Plans

This is a free online resource of companies and industries in the U.S. Students, alumni, faculty, and staff can get information pertaining to company reviews, conduct informational interviews, get company rating in regards to employee satisfaction and dissatisfaction, and salary information.  Students will be able to reach interview questions, prep for interviews, and research companies.
Recuiters Connection, LLC is a National Online Directory of Recruiting Firms by state and by industry. Join their email list for weekly webinar information.
Online Resume Builder
Resume Builder assists you to create an effective and professional resume by providing expert tips, writing examples, and helpful suggestions. The software also comes with a cover letter builder, thank you letter builder, and more.
For all first time and returning students, visit the resume builder now. You can also login directly from Resume Companion and access the resume builder using your university issued email address.
For Assistance, Contact:
Carla Crews, M.Ed Counselor
Phone: 336.734.7206
Fax: 336.734.7252
Email: ccrews@forsythtech.edu
For in-depth career counseling or assessments please contact the Counseling Center at 336.734.7226 to set up an appointment with a counselor
Additional Information