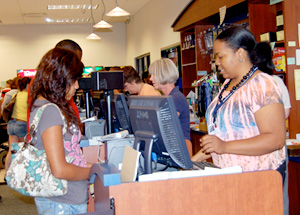 Campus Bookstores
Forsyth Tech operates three bookstores – Main Campus, West Campus (at 1300 Bolton Street) and the Northwest Forsyth Center (at 3111 Big Oaks Drive in King) – as a service to students, faculty and staff. The Main Campus Bookstore offers a full line of traditional college store merchandise, including textbooks, school supplies, and other course-related materials, plus first-quality backpacks, emblematic apparel and gifts, and educationally priced software. The bookstores at West Campus and Northwest Forsyth Center offer abbreviated selections of the above, focusing on books and materials for programs housed at those locations.
Students may also purchase their textbooks online. Visit our online bookstore today!
Credit students have the opportunity to sell their used textbooks at the end of each semester. The bookstore buys used textbooks for resale to students in upcoming semesters and for the national wholesale market. In both cases, the market for used books is determined by demand. Students selling textbooks are required to present a photo I.D. Buyback dates will be announced on Techlink, on-campus posters, and by direct e-mail and/or postcard.
Credit students have the first 10 class days of each semester for textbook refunds and exchanges. A sales receipt is required for all refunds and exchanges.
Continuing education students can get textbook refunds and exchanges until the first class day. A sales receipt is required for all refunds and exchanges.
Main Campus Bookstore
| | |
| --- | --- |
| Monday — Thursday | 8 am – 7 pm |
| Friday | 8 am – 3 pm |
Phone: 336.734.7289
E-mail: bookstore@forsythtech.edu
West Campus Bookstore
| | |
| --- | --- |
| Monday — Thursday | 8:30 am – 1 pm, 2 pm – 5:30 pm |
| Friday | 8:30 am – 1:30 am |
Phone: 336.734.7754
Northwest Forsyth Center Bookstore
| | |
| --- | --- |
| Monday — Thursday | 8 am – 1 pm, 2 pm – 5 pm |
| Friday | 8 am – 2 pm |
Phone: 336.734.7055
Transportation Center Bookstore
| | |
| --- | --- |
| Monday — Thursday | 7:30 am –4 pm, closed 12:15 pm – 12:45 pm |
| Friday | 7:30 am – 1:30 pm |
Phone: 336.757.3393
Oak Grove Center Bookstore
| | |
| --- | --- |
| Monday — Thursday | 8:30 am – 5 pm, closed 1 pm – 2 pm |
| Friday | 8:30 am – 2 pm |
Phone: 336.734.7884