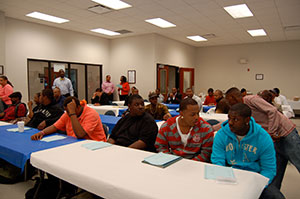 James A. Rousseau II Minority Male Mentoring Program
Forsyth Tech has made a substantial commitment to providing opportunities to support the success of its students. The college has a rich history of supporting and mentoring minority males through a variety of institutional initiatives and mentoring programs.
The Forsyth Tech Minority Male initiative will identify and provide academic, social and motivational support for a cohort of minority males currently enrolled at the college.
The primary goal of the James A. Rousseau Minority Male Mentoring Program is to provide appropriate support services and other incentives to enable more minority students to successfully complete their educational objectives without dropping out or interrupting their course of study.The following supportive and retention strategies are provided to fulfill our goals:
To provide an open forum for minority males to discuss issues and concerns.
To give structure and support to promote goal-setting and positive choices in decision-making.
To improve the retention and graduation rate of minority males at the college.
To increase the awareness of support services available at the college.
To assist students with practical knowledge of budgeting, investments and savings.
Individual and small group sessions are held by senior mentors who are volunteers from the community.
Forsyth Tech's minority staff also serves as mentors.
The coordinators collaborate with organizations and groups on and off campus to enhance the services available to the students.
An Early Alert System is being planned to assure success in the classroom for all students.
We share cultural and educational activities with local colleges to help our students become well-rounded.
For more information, contact the James A. Rousseau Minority Male Mentoring Program, Room 114, 1st Floor, Allman Center, Main Campus or 336.757.3385.