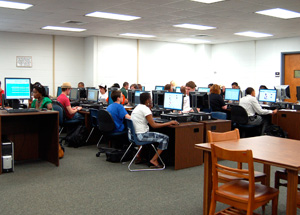 Learning Resource Center
The Learning Center is located in Room 143 of Ardmore Hall on Main Campus. It offers an Open Computer Lab as well as Academic Tutorial and Testing services.
Learning Center Hours
Monday — Thursday 7:30 am – 9 pm
Friday 7:30 a.m. – 3 pm
Saturday 9 a.m. – Noon (Fall/Spring semesters only)
Phone: 336.734.7480
Open Computer Lab
Whether you need to write and print a paper, access the Internet, or work from a specialized program for your class, the Computer Lab is available for all these purposes. Currently there are over forty computers available. Staff is available for assistance during the hours of operation.
Academic Tutorial Services
One-on-one tutoring is free for all Forsyth Tech students and is available in mathematics, chemistry, computers, English, accounting and a host of other subjects. Discuss your needs with Tracey Baggett, the Director of the Learning Center, and she will find a tutor for you. Your tutor will meet with you on campus, usually in the Learning Center, on an individual basis at your convenience. Please contact the Learning Center at 336.734.7480 or tutor@forsythtech.edu for further information.
Academic Testing Center
The Academic Testing Center proudly serves Forsyth Tech students and our community by providing proctoring services. We administer make-up and distance education examinations for Forsyth Tech students, and offer services for other schools, colleges, universities, and agencies.
Anyone needing to take a proctored exam must make an appointment with the Academic Testing Center. Appointments can be made at http://academictestingcenter.fullslate.com. Please contact the Academic Testing Center at 336.734.7480 or LCTesting@forsythtech.edu for further information.