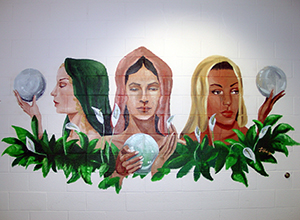 Shugart Women's Center
The overall mission of the Shugart Women's Center at Forsyth Tech is to promote the educational, personal and professional development of women attending Forsyth Tech by providing advocacy, referrals, information and resources to assist in achieving positive outcomes.
Location
Room 206, Hauser Hall
Forsyth Tech Main Campus
2100 Silas Creek Parkway
Winston-Salem, NC 27103-5197
Phone: 336.734.7280
Fax: 336.734.7597
Email: swc@forsythtech.edu
Hours of Operation
Monday — Thursday (8 am – 5 pm)
Friday (8 am – 3 pm)
Sherraine McLean, Director
Terri Chandler, Staff Assistant
Services
Counseling & Referrals
The director of the Shugart Women's Center is available to provide counseling and appropriate agency referrals based on individual needs. Information obtained during a session remains confidential.  Referral agencies include: Experiment in Self-Reliance (ESR), Family Services, Inc., Housing Authority of Winston Salem, Work/Family Resource Center, Department of Social Services (DSS), Salvation Army and various other local agencies.
Enhancement Center
The Enhancement Center is stocked with professional and casual clothing for female students in need. Items are donated by individuals and by organizations. Clothing distributions are held throughout the year.
Resource Library and Internet Access
The Shugart Women's Center houses a substantial collection of more than 550 donated books, tapes and magazines for students, staff and faculty use. The library is available for students to study or just relax. Materials may be checked out. A computer with internet access is available for students to complete assignments or to do research.
This area also may be utilized for small group meetings.
SWCircle
The mission of the SWCircle (Committed to Incorporating Resources Centered in Leadership Experiences) is to promote educational, personal and professional advancement of women by connecting them with a network of fellow-students, resources, and development opportunities.
The SWCircle promotes educational, personal and professional development of women by providing opportunities for them to get involved with the following:
Attend local conferences, seminars, and workshops (i.e. Salem College Women's Leadership Conference)
Create, develop, and implement service learning opportunities (i.e. Domestic Violence Awareness, Breast Cancer Awareness, and other women related issues).
Get involved with campus and community initiatives (i.e. These Hands Don't Hurt, SWC Health Fair, and etc.).
Get involved with civic service (i.e. College Advisory Board to the City Council)
Network and develop relationships with local business women both on and off campus
Connect with a mentor
Empowerment Seminars/Workshops and Displays
The Shugart Women's Center sponsors numerous sessions throughout the year. Topics include, but not limited to: Health Awareness, Financial Management and Understanding Your Credit, Dress for Success and Self Defense.
Information displays are set up throughout our campuses during the year. These displays focus on topics that impact the lives of all people such as: Cancer Awareness, Child Abuse Awareness, Domestic Violence Awareness, Sickle Cell Anemia Awareness, and others.
History of the Center
Gloria Sexton, the former director, initiated the idea to start a Women's Resource Center. The idea was shared with Dr. Desna Wallin, the former president of Forsyth Tech. Room 206 on the second floor of Hauser Hall was allocated for the center. After months of renovation, in December 1998, the three-room suite became home of the first women's resource center on a North Carolina community college campus. In August 2002, the Forsyth Technical Community College Foundation received an endowment from Mr. Grover F. Shugart, CEO of Shugart Enterprises, LLC, for the college's Women's Resource Center. The center was then renamed Shugart Women's Center at Forsyth Tech. Although the Shugart Women's Center is aimed at female students, it is open to all enrolled students of Forsyth Tech as well as faculty and staff.
Testimonials
"Human life is one of the most beautiful and precious things in this universe. For the most part we are very resilient—able to overcome even the greatest obstacles. There are times, however, when we feel defeated and unable to pick up the pieces by ourselves. During the summer of 2009 I found myself in such a situation. While it would have been easier to give up, hold my anger in, and let the situation hold power over me, I decided to reach out to the Shugart Women's Center for assistance. Even though I met with Sherraine McLean only a few times, I felt such relief by telling her about my situation. She not only listened to what I had to say—she shared words of wisdom and inspiration with me. Because she was such a blessing to me, I wanted to share this experience with others in hopes that someone else will seek assistance when they need it. You can rest assured that what is said will be held in confidence, and I truly believe you will find comfort there in your time of need.

May blessings be showered upon you, Sherraine, for caring about the students of Forsyth Technical Community College like you do!"

— Carol Tulbert
"Dear Shugart Women's Center,

My name is Shirelene Vargas, and I am a Spring 2010 graduate of Forsyth Technical Community College. I want you to know that I am truly grateful and appreciative for the generous support and services you extended me while a student at Forsyth Tech. For women in general and single moms particularly your services are vital. The center is filled with friendship, good spirits, love and understanding. The compassionate environment is what welcomes you into the center and helps you feel safe, confident, empowered and important. The Shugart Women's Center is a fruitful support center that has lifted and shifted my life and future. Thank you so very much!!! Blessings to you!!!"

— Shirelene Vargas
Advisory Committee
Dr. Cynthia Briggs (Adjunct Professor, Walden University/Writer)
Sandra Gaskell (Piedmont Federal Savings Bank)
Gwendolyn Guernsey (Novant Health)
Sherraine McLean (Forsyth Technical Community College)
Lea Metz (Metz Consulting)
Ana Monge (Carolina Business Interior)
Shenell Thompson (Financial Pathways of the Piedmont)
Gwen Whitaker (Forsyth Technical Community College)
Jacinta White (Forsyth Technical Committee College; The Word Project – Kernersville)
Deborah Womack (North Carolina Cooperative Extension)