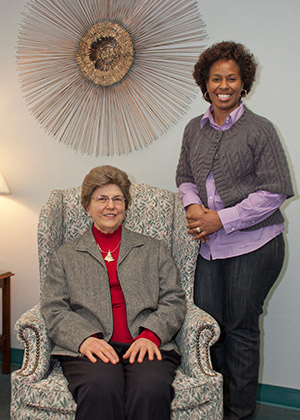 Where Your Dollars Go
Student Scholarships
When you make a gift to support scholarships at the Foundation of Forsyth Tech, you do something powerful – you pave the way to endless possibilities for our students.
While tuition at Forsyth Tech is low in comparison to four-year universities and colleges, we still have students who due to their circumstances cannot afford it. Most Forsyth Tech students work at least part-time, some are single parents and more are those who have just been laid off or downsized due to the economy. Your gift gives these students a chance to succeed – an opportunity they would not otherwise have.
Every year, we receive numerous thank you letters from our students expressing their gratitude for the generous donations of individual donors and organizations that make these scholarships possible.  Below are just a few examples of how your dollars make a difference in the lives of our students.
 
Bridgette Hazelwood
2013-2014
Leslie Blair Scholarship in Radiography
"It is with an appreciative heart that I thank you for your generosity in helping me further my education in the field of radiography. I chose this field because of my love for science, but more importantly because of my desire to serve others.  Because of your kindness, I can dedicate more time to studying and spend less time worrying about finances. I cannot express how much I appreciate your support and thoughtfulness."
Kathy Jones
2013-2014
Tree Bright Massage Therapy Scholarship of Excellence
"My passion for therapeutic massage is matched by my compassion and desire to affect the well-being of others. It is a wonderful feeling knowing that I will be able to lessen someone else's level of pain through techniques and modalities learned at Forsyth Tech. Without your generosity, this would not be possible. Receiving this scholarship allows me to pursue my goal as a Licensed Massage and Bodywork Therapist, while taking the financial burden off of my family. I am one step closer, thanks to you."
Weston B. Ginn
2012-2013
L. Gordon, Jr. and June D. Pfefferkorn Scholarship
"It is difficult to put into words how much it means to me that kind individuals such as yourselves are willing to financially contribute to my and my family's future. I cannot thank you enough for contributing to help me achieve my goals. School can be quite challenging at times and occasionally I begin to doubt myself. But I cannot describe how much it means to have people there who truly believe in my success all while making life easier by alleviating the financial burden of going to school and having a family. Your generosity supports the notion that there are really people out there who actively make the world a better place."
Oksana Manning
2012-2013
Medical Alliance of the Piedmont Scholarship
"There is no more pleasure in life than to wake up in the morning with the words of gratitude to a person whom you have never met but whose kind heart made such a difference in your life. Your kindness and generosity gave me a new hope, a new chance, a second breath and a new impulse to go on with nursing. I will always remember your generosity in my heart.
Kolea N. Agbo
2012-2013
Thomas E. Shown Scholarship in Practical Nursing
"As a student, I believe that success lays in the ability to focus, study, and be completely emerging oneself in his or her studies. As a single mother, there are many things that demand my attention and time throughout the day, one of which is finances. With this generous scholarship, I was able to take the energy that would have been spent on finding ways to pay for my education and spend it on my studies. That alone has been a big relief and you made it possible for me. It is only by spreading generosity and benevolence to the next generation – as you have done with me – that we can all prosper and be successful in life."