Small Business Success Stories
Shaun Mayes, Owner/Videographer, Mayes Video Productions LLC
What is going well?
Since acquiring the community business of the month in March 2019, this recognition added more credibility and visibility to our brand. In addition to being an LLC and an A+ with the BBB, it has added legitimacy and an added confidence as we solicit our services.
Describe two or three big successes in the past six months?
There have been no tangible successes in terms of business increase but visibility is certainly there. I think the big success is knowing that prior to this recognition we were/are doing the right thing and we are being watched.
Describe a big challenge moving forward?
As we continue to develop and fine tune our business plan the big challenge is to gain solid leads and increasing the potential to "lock in the deal". When the trend hits a plateau the challenge then becomes maintaining it.
What assistance is needed from the Small Business Center?
We need assistance from the SBC; our intent was to engage in the various resources that SBC has to offer but time tends to slip away. As with any other resolution, our's is to double down on our business plan, understand where the gaps lie and using the SBC resource to fill those gaps. Thank you!
Who else needs to know about our SBC services?
There is a growing trend of entrepreneurs in the area, as with us, those who are looking to establish their brand, understanding who they are and what goods and services they can present to improve or add to a client's life, and marketing those things all the while being fluid and reinventing the wheel of improvement would be those primary candidates. Which should be a universal need.
Shaun Mayes
Mayes Video Productions LLC
Gloria Hairston, BS, MBA, Be One To Succeed Staffing, LLC
What is going well?

Consistent use of Be One To Succeed (BOTS) Staffing, LLC services
Reduction of local recidivism
Self-gratification in accomplishing goals
Time management

Describe 2 or 3 successes?

Because of my good reputation at the Greensboro Airport Marriott, BOTS Staffing has secured a working agreement with the Embassy Suites to provide banquet, and housekeeping services.
Submitted renewal applications for Bail Bond and Certified Nursing Assistant licenses, respectively. Both were approved within the past week.

Describe a big challenge going forward?

While I have attended forums, job fairs, MWBE events, VENTURE Café and created a presence in the downtown / surrounding communities, I have been unsuccessful in securing a contract or sub-contract in Winston-Salem.
Employee retention

What assistance is needed from the Small Business Center?

Assist BOTS Staffing with Networking opportunities

Who else needs to know about our SBC services?

Anyone who is considering starting a business should consider contacting the SBC and get involved with use of the FREE, educational and mentoring services.
Aspiring and established Entrepreneurs who wish to take their business to the next level through coaching opportunities afforded by the SBC.
Gloria Hairston
Be One To Succeed Staffing
Bethany and JD Miller, Top Leaf Cigar Lounge
What is going well?
With the help of the ladies at Marketing outside of the box we now have an updated website with much better visuals. Our traffic in the business has increased.
Describe 2 or 3 successes?
We have increased our inventory and now have over 200 different cigars to choose from. We have now been in business 3 years.
Describe a big challenge going forward?
We are challenged with creating a HVAC system at our new location that will exceed the State requirement of moving 60 cubic meters of fresh air per (occupancy 81) person.
What assistance is needed from the Small Business Center?
Continued access to classes and Mentors.
Who else needs to know about our SBC servicese?
Everyone who has a business or is starting a business in the Triad!
Bethany and JD Miller
Top Leaf Cigar Lounge
Alisa Allen, Aging with Grace, PLLC
What is going well?
Alisa Allen, is the Owner of Aging with Grace, PLLC. Which was founded in 2010. Alisa Allen is a Certified Foot Care Registered Nurse who provide in-home nursing foot care services in the Trad area for homebound/bedbound older adults, diabetics, and individuals under hospice care. Her nursing foot care services promote comfort, dignity, prevention of injury and complications, early detection, optimal mobility, safety and holistic wellness.
Alisa takes it upon herself to provide exceptional support and services for Registered Nurses and Nurse Practitioners. May 2018, Alisa took leap of faith and started North Carolina Academy of Nursing Foot Care, PLLC. She assists Registered Nurses and Nurse Practitioners with hands-on nursing foot care training in a rapidly growing industry. She trains Nursing Professionals nationally with specialized nursing skills to assist patients with their nursing foot care needs.
Alisa is always ready to pitch in for the good of the community regardless the mission. Alisa developed a "Healthy Foot Care Program" at a local Senior Living Community where she organizes monthly routine foot care services for Seniors.
Alisa community service efforts are unique and far reaching. She travels to several Senior Living Communities and Senior Centers to offer presentations on healthy foot care. Also, Alisa Adopted-A- Highway to continue to keep our beautiful State of North Carolina clean and green.
Describe three big successes in the past six months?
Alisa demonstrates extraordinary commitment to the health and wellness of older adults in the community. She was Awarded …
A) July 2019: "Winston-Salem Community Business of the Month"
B) Author of" Foot Care NURSEpreneur Steps-For-Success". Amazon's Bestsellers new release in Podiatry, Business, Money and Short Reads.
C) ACHI Magazine 2019 Official Nominee: Woman of Achievement, Woman of Inspiration and Health & Wellness
Describe a big challenge moving forward?
As an entrepreneur, there are some challenges women business owners may face such as building a support network, dealing with limited access to funding, navigating resources and etc. I am so grateful the Small Business Center of Winston-Salem provide aspiring and existing business owners with resources and tools to overcome such barriers.
What assistance is needed from the Small Business Center?
The transition to the role of a small business owner can be overwhelming. The SBC provides information, mentoring, assistance and great business networking opportunities.
Who else needs to know about our SBC services?
Aspiring and established small business owners looking to grow, need to know about SBC.
Ta'Nisha Monique, Ta'Nisha Monique Cupcakes
What is going well?
We are grateful to have a few things going well:

Our marketing strategies seem to continue to bring us new and loyal customers
Being selective about networking opportunities has proven to be a successful use of our time. As a result of the networking opportunities, we have received confirmation about ideas, as well as, challenges from new partners and our trusted mentors
We have been able to hire a teachable and responsible employee who allows us to be more visible in the community

Describe two or three big successes in the past six months?
Being nominated and selected by over five organizations as the Winston-Salem Chronicle's Business of the Month continues to be a success.  We were also featured on Dwayne Cannady's radio show the same week as the Business of the Month announcement was made; both produced new customers!  Taking the next steps of becoming a mentee at the SBC has already yielded great results…and there's only been one meeting.  Allan Younger and other staff members have been incredibly kind and helpful with advising what classes and events to attend.
Describe a big challenge moving forward?
Locating funding to expand our current location is a challenge.  We also find it challenging and frustrating to constantly explain our pricing…and explain it with a smile.
What assistance is needed from the Small Business Center?
Ways to find the funding we previously discussed :), and someone who can help us with our website.
Who else needs to know about our SBC services?
Anyone looking to start a business, new business owners and tenured business owners all need to know about the SBC!  While we have been storefront for nearly a year, we have worked with the SBC for less than 30 days and have received invaluable insight and, best of all, NEW CUSTOMERS!
Ta'Nisha Monique
Ta'Nisha Monique Cupcakes
Christen Elisabeth Funderburk "Lizzie"
What is going well?
Business is going great. My online store is growing and I have many returning customers that I have been able to build relationships with. Attending vendor events on a regular basis over the past few years has helped me grow my customer base tremendously along with providing awesome customer service and telling my story to attract new customers that can relate. Surprisingly, so many people out there have eczema and when I share my story, they too have a story to share. It makes me feel good that my products are able to help them with an issue that has been present for most of my life.
Describe two or three big successes in the past six months?
A few big successes that have occurred in the past months have been launching my new affiliate program which allows individuals (women in particular) to join my company and make extra money when they bring new customers in to make purchases. I figured if Mary Kay and Avon can do it, I can do it too. I wanted to not only grow my clientele organically, but also give people a chance to work with my company and earn additional income. Another awesome thing that has happened with my company is simply having the support of so many people. It truly takes a village to accomplish anything big, especially running a business so having people that genuinely support me and believe in my vision means everything to me.
Describe a big challenge moving forward?
A challenge moving forward is stepping out and trying to find ways to get out there & finding new ways to expose my business to a new community (Winston Salem). Although I am originally from this area, for the past 8 years I have been living in the Robeson County area where I began my business. Exposing my business to a new community can be a bit frightening, especially when there is so much competition, but with the help of the Small Business Center I am very confident that I will overcome this challenge with ease.
What assistance is needed from the Small Business Center?
The assistance that I need from the Small Business Center is EXPOSURE & MARKETING…I don't think any small business could have enough of either one. Another thing that I could use assistance with is mentorship and guidance so that I can continue to elevate and develop the skills I need to make my company successful and thriving. I am always open to new ideas that could possibly help take my company to the next level.
Who else needs to know about our SBC services?
Literally every single business out there that is starting up or already established needs to know about the Small Business Center. The resources are free, useful…and did I mention free? All business owners can benefit from using the services they offer.
Christen Elisabeth "Lizzie"
Lizzie's All-Natural Products
Margaret Morris
What is going well?
Our goal for each client is to finish their program communicating with greater effectiveness, confidence, and ease so that they have more significant professional opportunities. We have continually improved our training programs and developed a very successful interview-training program for universities with international students. We offer this program to individuals as well.
Our clients have made remarkable progress in our accent modification training as evidenced by their feedback: "I don't have to repeat myself.", "My coworkers understand me better.", "I have better work relationships.", and every client states: "I feel more confident." Clients progress is also demonstrated on their re-evaluation: improved speech clarity by over 60% and improved grammar by over 50%.
Describe two or three big successes in the past six months?
Our clients make incredible progress, and I am proud of each of them. But, one client stands out. This adult client had been held back by her speaking pattern since middle school when she realized she did not speak like other children. In three months of diligent work, she successfully overcame her problem. She now has a steady job, reads to her child, and is considering college.
The second achievement is how quickly our International Graduate Students "polished" their communication skills with our strategic training. Each student left the program speaking with improved clarity and confidence. They also improved their storytelling skills to demonstrate to both their technical and relational skills for successful interviewing in the field of business analytics.
Describe a big challenge moving forward?
Marketing and connecting with potential clients is a continual challenge. I am proud of my progress but know there are many more strategies that I can use so more people will know about my business. Recently, I have gone to some new networking groups and have scheduled many one to one meetings. I have been able to reach a whole new group of people with these changes.
What assistance is needed from the Small Business Center?
The marketing classes given by Hustle have been very beneficial. I would benefit from additional courses on specific details and directions on advertising on social media platforms. Further education on finances and being well prepared for taxes would be helpful to my business.
Who else needs to know about our SBC services?
There is something for everyone at the Small Business Center regardless of your line of work or your desire to have a small business! I often refer small business owners to the Small Business Center and, people who want to improve their communication and social media presences too.
Margaret Morris, M.A., M.S., CCC-SLP
Speech Language Pathologist, Accent Modification Specialist
Triad Speech Consultants
Juvonne Johnson, Jump-A-Roo Inflatable Carnival
What is going well?
I think the branding of my company is going well and deciding to step out on faith to open full-time.
Describe two or three big successes in the past six months?
The two things that has been successful for Jump-A-Roo Inflatable Carnival would be the Storefront Business and opening a balloon bar.
Describe a big challenge moving forward?
The big challenge for me would be marketing and transitioning the Jump-A-Roo Inflatable Carnival to a store front and also learning to run an actual store.
What assistance is needed from the Small Business Center?
I think for me I need classes that could actually have hands-on classes to help small business owners to help with actual steps to record keeping and how to take inventory.
Who else needs to know about our SBC services?
I think the high school children needs to know more about the SBC because some them would probably like to know that it's an option if they decide to have different plan instead of college if they would like to be a small business owner. If would have known when I was in High school I would probably be a lot further.
Juvonne Johnson
Jump-A-Roo Inflatable Carnival
Daniel Foster, Fosters Auto Care
What is going well?
I'm getting new business, new clients, and able to build relationships.
Describe two or three big successes in the past six months?
Some successes that I have had has been, being able to gain knowledge about the small business center and all it has to offer. The mentoring sessions, the classes, and the networking, all these things have helped me to gain more business, and to push forward in expanding my business.
Describe a big challenge moving forward?
My biggest challenge now is trying to find a good location for my automotive repair shop that has shop equipment, but all the shops don't have any equipment so my other challenge is getting more startup capital so I can put shop equipment in the shop.
What assistance is needed from the Small Business Center?
I will always need the small business centers assistance from further education with all the classes you offer and advice from the mentors.
Who else needs to know about our SBC services?
Anyone who is thinking about starting a business, who has a business, or anyone who might have an ideal for a business would definitely need to know about SBC services.
Daniel Foster
Fosters Auto Care – Mobile and D.I.Y. Repair
Miss Fit Boss Liz Hronek
What is going well?
National publicity
Describe two or three big successes in the past six months?
Created an effective membership site to cater to my clients.  Developed a relationship with the YMCA to collaborate on creating a happy healthy community.
Describe a big challenge moving forward?
Getting in front of my ideal clients in order to best serve them.
What assistance is needed from the Small Business Center?
How to create treatments to reach out to Television companies.
Who else needs to know about our SBC services?
People looking to share their passion, and don't know the next steps in the process.
Liz Hronek
Miss Fit Boss
Crissy Faison
What is going well?
The development of my business is going well in general. I have been completing different objectives to get to the ultimate goal. I have am licensed and permitted to sell to the public. I will have my license to serve alcohol at events by February. My registration with www.sam.gov is almost complete, which will enable me to receive government contracts. What feels good about all this is eventually the start up work will be done and I can completely concentrate on growing the business and my services.
Describe two or three big successes in the past six months?
Becoming a finalist in the Fall 2018 Launch Challenge and receiving a spot in the Enterprise Center Shared Use Kitchen were two of my big successes in last month. I revamped my website and I also have started my blog, called Everybody Loves Food, which is a page on my LeanBack website. The best is yet to come.
Describe a big challenge moving forward?
With so many other awesome caterers, I am coming up with ways to stand apart and book the clients. I would necessarily call it a challenge, just a work in progress.
What assistance is needed from the Small Business Center?
I will always appreciate the classes the SBC offers.
Who else needs to know about our SBC services?
Anyone who is thinking of or in the process of starting a business should take advantage of the SBC and it's services. Even after their business is up and running I would still suggest coming to the different events.Crissy Faison dba LeanBack Soul Food
Forsyth Tech Small Business Center client
Crissy Faisan
LeanBack Soul Food
Patrice Jeffreys
What is going well?
Business is going very well and I am continuing to gain new customers weekly. Trice's Eatz is also partnering with local businesses through connections with the Small Business Center.
Describe two or three big successes in the past six months?
Two Big Successes in the past six months are: Winning The Best Caterer of The Year Award (Forsyth County Entertainment Awards), and also being named Community Business of The Month (July).
Describe a big challenge moving forward?
A big challenge moving forward is locating kitchen space to work from.
What assistance is needed from the Small Business Center?
The assistance I need is to develop a business plan, locate/secure a space for my business and continue to grow.
Who else needs to know about our SBC services?
All business owners need to know about the services offered through the SBC. I have gained a ton of knowledge in a short period and look forward to learning so much more!
Patrice Jeffreys
Trices Eatz, LLC
Connie McLendon
What is going well?
Since I have been working with the small business center, I am no longer just "winging it." Receiving continuous education and being connected with other entrepreneurs is going well. The combination of the 2 have been monumental as I progress as a small business owner.
Describe two or three big successes in the past six months?
Registering with my licensing board and being approved for business as a nursing professional (with a certificate), formulating a well thought out pitch with a call to action, securing a meeting with a potential corporate partner who can benefit from my services.
Describe a big challenge moving forward?
A challenge for me is "just doing it." I always tell myself there's more research or information that I need or it would be better if I can perfect my work before putting it out. However, I cannot allow my fear of failure to be a barrier. I have to start in order to showcase my unique talent through my service to families. Failure (learning) is a part of success.
What assistance is needed from the Small Business Center?
Continue to do the great work already in place event offerings, networking opportunities, and brilliant staff.Mrs. Connie McLendon
Forsyth Tech Small Business Center client
Connie McLendon
Forsyth Tech Small Business Center client
Curtis Harrington
What is going well?
We have a core of very faithful members who are our billboards! They spread the word about FAST and has been the biggest contributing factor with generating new tribe members! Due to this fact, we have seen new faces throughout the past month and are continuing to grow our tribe even before our grand opening.
Describe two or three big successes in the past six months?
One big successes is with my feature client, Terrance Hawkins. He lost 65.8 lbs and is benefiting from a fitter and healthier lifestyle. We have been participating in a national competition and we have been selected as top 5 national finalist. This accomplishment has raised a tremendous amount of awareness for FAST and will benefit the growth of our business tremendously! If we win the challenge, the awareness of myself and FAST will go from a local level to national! Within the process of training Terrance for the national competition, we have started a local fitness challenge group. This group has also served to raise awareness about myself as a credible fitness coach and has given local tribe members an opportunity to see and get comfortable with my coaching style before trying out FAST in person. This will continue to increase visibility with FAST and allow our facility to be among the top facilities to increase health and wellness practices within our community!
Describe a big challenge moving forward?
One challenge moving forward is to ensure all our retrofitting executable's will be accomplished within the budget we have set. In order to accomplish this, our we must be frugal and wise with our purchasing decisions; exploring every option and making the most sensible decision that will provide the most quality and longevity. The challenge also will be to have the facility ready to grand open by Mid to Late August.
What assistance is needed from SBC?
We will continue to lean on the SBC for mentorship guidance when challenges arise and knowledge, wisdom and know how are needed. The SBC has also been huge with raising awareness of FAST and we will continue to look for support in this area of marketing and promotion.
Who else needs to know about our services?
I know of a couple of aspiring entrepreneurs who I have referred to the SBC and will continue to do so as I discover entrepreneurial spirits within community members looking for an alternative to being an employee.
Curtis Harrington
The Fast Tribe
Faith McKnight
My name is Faith McKnight, owner of The Sweet Truth Bakery & Catering. For six months I was a participant of the Launch Challenge @ Small Business Center @ Forsyth Tech 525 Vine Street Winston Salem, NC 27101.
I was referred by The City of Winston Salem Business Inclusion Office.  After many emails, I went to the meeting about the Launch Challenge. Coming fresh off being a finalist in the City's business plan contest, I gave it a try
I was amazed at all the FREE information I was receiving so I applied and was selected as a participant. The word CHALLENGE is the key word. To run a business, you will face many challenges.
The SBC helped me overcome all those challenges. With the events and mentoring sessions, I officially launched The Sweet Truth Bakery and Catering in September 2017 with its first business to business customer, Irie Rhythms Jamaican Restaurant, right after the session started.
I am also the second-place winner of the first session of Launch Challenge 2017. I have participated as a featured participant of Venture Café twice.  I have benefitted from networking with other small business owners and increased my sales.
I continue to use the SBC because as I said, the information is free. Many of the mentors are experienced entrepreneurs themselves and the information given is priceless.
The SBC can also connect you with the right people who can help you with branding and customer relations. I have gotten so much exposure for my business that I feel "ALMOST FAMOUS". So, if you are looking to start your own business, the Small Business Center at Forsyth Tech is your first place to start.
Faith McKnight
The Sweet Truth Bakery & Catering
LaTanya Tyson
What is going well?
The building of the website is going smoothly. I have built websites in the past, but they were from existing businesses and now I have to create everything from scratch.
Describe two or three big successes in the past six months?
My biggest success was that this business venture went from an idea to fruition under the leadership of a novice entrepreneur.  My second second success was the combination of an excellent team to ensure the success of the business.  I was able to bring on a variety of free personnel with critical experiences and education in each aspect of the business.
Describe a big challenge moving forward?
I had to readjust my schedule to dedicate more time to the business.
What assistance was most needed from the SBC?
The courses and interactions with other entrepreneurs are a continual need for the success of my business.  I would like more day time classes, but I do understand that a number of individuals work during the day and can't attend those events.
Who else needs to know about our services?
College students at the other local colleges.
LaTanya Tyson
Carolina Christian College
Stacey Mitchell
What is going well?
The Smoke & Skillet team has been given funding and opportunity to complete the up-fit of the smoke trailer to launch a food truck by April of 2018. We have also had meetings with leads about reserving dates for events and weddings coming up in the 2018 year.
Describe two or three big successes in the past six months?
In the past six months, Smoke & Skillet launched a catering business that has seen success for the holiday season with over a dozen orders filled since October. We completed all requirements in the Launch Challenge from the Small Business Center of Forsyth Technical Community College, and were awarded 1st Place, which included grant funding to complete a full up-fit of a mobile kitchen unit. Stacey Mitchell, the company founder, completed placement testing and was accepted into the Forsyth Technical Community College Culinary Arts Program for certification, expected graduation date of April 18, 2018.
Describe a big challenge moving forward?
Moving forward, our team's greatest challenge will be the completion of the mobile kitchen unit, and securing orders while Stacey is also enrolled in school for certification until April 18th.
What assistance was most needed from the SBC?
Our team will look to the SBC Mentors and further business training as we need help. We believe the SBC is now a part of our team, and will be the backing we need to help us move forward and increase our business' success.
Who else needs to know about our services?
Anyone and everyone with a desire to start a business or who already owns a business needs to know about what's available at the Small Business Center. I really had no idea about the depth of resources available until I began my journey. The combined knowledge of the staff, professionals who volunteer their time, and the services, resources, and opportunities that are available are what you need to get a firm understanding of what you're facing, and they will also give you what you need to catapult you and your business to the next level.
Stacy Mitchel
Smoke & Skillet, LLC
Luis Martinez
What is going well?
My self-confidence is stronger and that helps improve my business.
Describe two or three big successes in the past six months?
I can  now have a solid conversation on the phone with other people. I know how to use different resources to look for work and how to socialize about the company on social media.
Describe a big challenge moving forward?
My main challenge was to step out and speak up and making sure that you have work going.
What assistance was most needed from the SBC?
The one on one business mentoring helped me very much.
Who else needs to know about our services?
Anybody that is interested in providing quality work.
Luis Martinez
Quality Stone Work
Austin Moody
What is going well?
Our social media interaction is going really well for us. We are also having a great time meeting some of the local business owners around Winston Salem.
Describe two or three big successes in the past six months?

We had a very successful launch.
Our first client within one week of our launch date.
We were able to turn our entire investment into profit within two months.
We partnered up with one of the largest commercial printing companies in Winston Salem.

Describe a big challenge moving forward?
We are a small company, so finding time to handle the clients we have while finding new cliental could be a challenge.
What assistance is needed from the SBC?
By mentorship, space to work in or the classes we have taken to better our skills, the SBC has been very helpful in developing North Carolina Corporate Solutions
Who else needs to know about our services?
Restaurants downtown, food trucks, legal firms, production companies and consulting agencies.
Austin Moody
North Carolina Corporate Solutions
Antwain Goode
We are excited about the relationship and support of the Small Business Center of Forsyth Tech! To begin with, I would like to introduce my company Tate Consulting. Our logo, the Tate Consulting tree is symbolic of the reflection of the mentor and mentee relationship. We believe that if we develop stronger leaders, they, in turn, will develop stronger followers. Our mission statement: "To change a life one person at a time through leadership training" has anchored our digestible leadership seminars. Every person that we meet will receive our full attention as their life matters, and we will help them develop their gifts. We have had a dynamic 60 days of 2017.
First, I would like to highlight our recent success stories. We have successfully provided leadership workshops to many unique sectors: healthcare, education, municipalities, hotel restaurant management, and non-profit organizations. Because our workshops are customized to our clients, we have created new swim lanes for organizational collaboration, team building, and idea sharing. The Small Business Center of Forsyth Tech was a key component of our shotgun start. Having a solid team of professionals behind us set the tone for a fantastic start to 2017. We humbly thank Mr. Allan Younger for sharing insight to the many resources that helped Tate Consulting become competitive from the onset.
As an illustration, January 2nd, 2017 the Bojangles organization requested our leadership insight to training their tenured and neophyte managers. The workshop was extremely successful, and as a result, we will train another team of managers at the end of the March. The testimonials from the Bojangles team led to a Carver School Rd Library Black History Month program. Over 50 persons were in attendance, and it was a huge success. The Bojangles team sees the value of personal development training and the impact their leaders can have on the community at large. Our leadership classes help individuals to open up and stretch their wings! Our second success was with Drs. Spangler, Rohlfing, and Lambert Pediatric dentists. The gap for this organization was to provide a hybrid personal development workshop in conjunction with client retention strategies. The organizational training workshop spanned both locations. We delivered an incredible workshop that yielded many customer retention ideas. The leadership constructs provided the foundation for heightened team motivation! Another success in February was the creation of a workshop for the City of Greensboro. The Water Reclamation Division gave us an opportunity to provide leadership solutions for their diverse work team. Tate Consulting created a one of a kind, hybrid writing/performance evaluation workshop that yielded $3.4 million dollars of documented cost savings. We trained 49 Water Reclamation individuals who represented engineering, maintenance, and laboratory positions. The organization was very impressed with the workshop, and subsequent follow-up coaching sessions. Our team will be working on the next phase of the project for more advanced leadership solutions. We are confident that the City of Greensboro Water Reclamation team will create new strategies from our workshop. Because of this workshop, the team will further improve the efficiencies of the water services while at the same time highlighting manager/employee innovations. Our final highlight centers on the students in our community. We were asked to provide a keynote to Carver High School in Winston-Salem, NC. We decided to provide a pro-bono workshop to the Millennial Scholars team. The group of thirty boys needed a workshop that highlighted career pathways and individual purpose. As a result, the assistant principal of the school awarded Tate Consulting a community excellence award for service. We consider this to be the best highlight of our two months of 2017 and we will continue to provide subsequent workshops for this Winston-Salem high school.
All in all, Tate Consulting is receiving calls from new clients from other states for our leadership/professional development workshops. The Small Business Center can help us by sharing our success stories throughout the community, educational, and industrial manufacturing sectors. Our workshops would be great for our high school, middle school, and elementary school principals and faculty. We would love to have an organization sponsor a workshop or provide resources to help us deliver workshops to motivate our amazing teachers in our city. As the presence of Tate Consulting grows, we are confident that we will develop the next generation of dynamic leaders. As the president of Tate Consulting, I am thankful for the support of the many leaders who have shared insight with us along the way. We will pay it forward and help others as we climb. We have a great team of professionals who operate in purpose, passion, and true north!
Antwain Goode
Tate Consulting
Norma Davis
The news article in the Winston Salem Journal and News & Records definitely helped spread the word about my business. People who wanted to start their own business were inspired by the article. I received many well wishes. I gave them words of encouragement as well as advise them of the great opportunities at the Small Business Center. The SBC keeps you motivated and updated on the changes and challenges a new business may face.
Anyone who has thought about starting a business should use the Small Business Center as their resource. Even if you want to make extra money part-time, the SBC motivates you to find your gift or talent and utilize it. Whether it's for profit or non-profit, they have classes which can guide you in the right direction.
In the last few months I've gotten more consistent with Facebook. I've communicated to more people about my business. In doing so, I received more likes and interest in my designs. Social media is definitely the key to reaching the market today. Changing venues where I am usually vendor has broaden my customer base. Each month I try to figure out how to make my business grow. Interacting with customers, I find out what designs interest them most and expand on that. This gives me effective feedback on what's working and what's not working.
In 2017, I want to work smarter not harder. The challenge is I have so many ideas and designs that I can not stop from trying to bring them all to life. I think one of a designers' greatest joy is seeing an idea transform into a finished product. To resolve this issue, I have to categorize the designs and make a certain amount in each group before moving on to the next project. With each project striving to be at the top of the list, prioritizing will be the next step to see which one is most urgent due to the season. The goal is to determine which ideas are most important to bring to life and not let them fall to the ground undone.
Norma Davis
Above the Norm
Jimmy Price
What is going well?
2016 was a year of change in growth for A Step Above Cleaning Service.  As our service continues to grow and demand for providing quality service at a reasonable rate increases, A Step Above has been able to answer that call by being committed to upholding our integrity, honesty and pride and delivering a great service to all our customers.
Describe two or three big successes in the past six months?
January 2016 A Step Above made a huge leap of faith in the process of transitioning from a DBA to an LLC. A Step Above was also chosen as one of the two winners of The City of Winston-Salem Business Plan writing contest. It was such a honor and privilege to be a part of such a wonderful moment which was so full of pride not only for A Step Above, but also for The City of Winston-Salem. A Step Above was able to purchase additional equipment to help us increase business opportunities with part of the winnings from the contest.  A Step Above is excited to have my wife Margie Price come aboard as our office administrator. She brings with her a wealth of knowledge and talent related to this position. We are blessed to have her aboard and look forward to her continual growth as well.
Describe a big challenge moving forward?
One of the biggest challenges moving forward will be our efforts to continue to grow into a healthy company, gain access to capital for future expansion and exposure to consistent professional services at a reasonable cost related to business accounting, taxes and human resources.
What assistance is needed from the SBC?
I believe the continued support and willingness to look at each business individually and the desire to address their needs completely would be all that anyone could ask.
Who else needs to know about our services?
I personally feel that not only people who have the desire to start a business from the ground up would benefit from what SBC offers, but those who have been in business for some time could benefit from revisiting the foundations of how to start a business to see if it was something very vital they missed or just to make their product or services better.
Jimmy Price
A Step Above Cleaning Service
Joy Nelson-Thomas
What is going well?
LEAD Girls fresh approach to leadership and personal development training for pre-teen and early teen girls from Forsyth and Guilford counties curriculum is making a major impact in self –efficacy, increase attachment to school, Increase social support and communication skills in the girl's lives that have participated in the program.

LEAD Member: "I am learning I don't have to worry about what people think of me"
LEAD Member: "LEAD Girls means protection to me"
LEAD Member: "LEAD Girls means Diversity to me"
LEAD Parent: "LEAD girls provide opportunities for the adolescent girls to give back to the community by volunteering in fashion shows, participating in walk-a-thons and donating items/feeding those in need. The program offer positive activities that nurture the girls to grow in mentally and physically. LEAD girls teach adolescent females to transform into productive young adults."
LEAD Parent: "I recommend this program for any adolescent girl, because it builds their character to be their best and empowers them to LEAD."

Describe two or three big successes in the past six months?

LEAD Girls of NC was a recipient of The Women's Fund of Winston Salem grant. This grant will support spring workshops hosted at Salem College.
LEAD Girls celebrated its 1 year anniversary celebration/ silent auction. Our silent auction raised over $500 dollars.

Describe a big challenge moving forward?
LEAD relies on the generous support of donors to fund our work along with grant funding. Right now, we face budget limitations that won't allow our girls in Greensboro to receive their LEAD Girls Purpose Toolbags. The Purpose Toolbags help every girl feel special, fully-included and valuable member of her LEAD group. Purpose Tools are the workshop "goodies" that all our girls need to fully participate in LEAD including a curriculum workbook, a personal journal, a LEAD logo shirts, a pink LEAD affirmation necklace, a LEADership Coupon Book to redeem for good grades, attendance improvements, service projects and being LEADers.
What assistance is needed from SBC?
SBC has been a major resource for LEAD Girls of NC. I have met some knowledgeable experts in their field. We need assistance with connections with local businesses that want to give back to organizations in the community, this doesn't have to be in just monetary donations, we are in need of working board members with specializations in Marketing, Grant writing, Fundraising, even legal assistance.
Who else needs to know about our services?
Any business owner that is in need of directions or help with the next steps. The SBC is a secret gem!
Joy Nelson-Thomas
LEAD Girls of NC
Adam Bartley
What is going well?
Customers that are trying our service are loving the finished product.  People are truly blown away by the quality of the car wash they are receiving in only 3 minutes.  I've also been pleased at the engagement of our customers with the car wash.  We've had multiple customers come into the office or post on Facebook to tell us how much they love how shiny their vehicles look.  Parents tell us their kids love to come and see the 'laser lights' and help vacuum the car afterwards.  I've even seen many customers with their cell phones in the hand recording their trip through the car wash because it's such an experience.
Describe two or three big successes in the past six months?
Our first big success is getting open.  This has been something that's been in the works for my wife and I for about 3 years now and so to see it finally open and serving our customers is something we're really proud of.  Our next big success is building our time.  Finding good people to work for you can be intimidating when launching a new business but we feel very fortunate to have such a quality and diversified team.  We have people with a range of skills from former Army and current reservist to experienced auto professionals.
Describe a big challenge moving forward?
Our biggest challenge moving forward is communicating to potential customers how we're different than existing car washes.  People see "Car Wash" in our name and automatically assume we're like every other wash.  We offer a new model focused on speed and value with a 3 minute high quality wash and free vacuums plus unlimited monthly plans.  We are planning to use several marketing channels to continue to spread the word about what makes us unique.
What assistance is needed from SBC?
Running a business today requires you to wear so many hats.  As a car wash owner, I not only have to ensure that my customer's are receiving the best clean, dry, and shiny car every time they come but I also have to deal with marketing, technology, accounting, and more.  The great thing about the SBC is I've taken classes there on each of those subjects to our benefit.  Moving forward, I expect to continue improving in all those areas with the help of the SBC.
Who else needs to know about our services?
Any business owner, new or experienced, could benefit from SBC's services.  If you are just getting started with your first business like me they offer great introductory courses.  But even an experienced owner could benefit from learning new ideas for marketing, technology, etc.
Adam Bartley
Shine Time Express Car Wash
Lindsay Dinkins
What is going well?
I'm really blessed to be where I am, to create a business in which I am doing what I love and helping other businesses to succeed and grow as well. I have received numerous word of mouth references for work. Because of the classes and mentors I have through the SBC, I have managed to become far more productive than I was when I started out and have created a system based on small increments of focus applied to deadlines and projects. Also, thanks to the SBC, I have met so many amazing people doing incredible things who I now network with and have grown relationships with who have gone through similar things that I may be going through and who are always available with advice.
Describe two or three big successes in the past six months.
As an "Ideal Introvert," it's hard for me to speak in public without sounding nervous or "un-confident" in what I do. One massive success is having taught my first (of many) seminars. And though I was nervous at the beginning, having moments of, "What in the world am I doing?," I pushed through and by the middle, was a total natural (as many of the participants told me afterwards). That confidence of knowing I lived through something like that and how well received it was made me realize that though I'm an introvert, I can't allow that to keep me down, which is totally something you, Allen, have been telling me for months now. I guess I had to experience it to believe it. Another massive success came on the forefront of my business itself. I love working with small businesses as their passion for their own business is something I feed off of. I also really love brainstorming one-on-one with their wants and needs within their business marketing front. However, I've been pushing myself to try to get to know a few larger companies for larger, higher-paying projects. A few weeks ago, a lady came to via LinkedIn (having received my name from someone at the Small Business Center) and asked for a meeting. When we met, she explained the scope of the projects she needed completed very soon, which was much more than I have completed in the past. Basically, she was exactly what I was looking for. I will be putting in my proposal early next week to become her Marketing Manager/Consultant—a super exciting moment for me and a huge success for the business.
Describe a big challenge moving forward.
My business has thrived on word-of-mouth, which can be very slow. Though I know I should be cold-calling as a new business, it's something that is very difficult for me. I have a business accountability partner who is helping me to get over this fear currently and though it will never be the biggest challenge I will face, it seems like a mountain to me right now. I plan on doing my first batch of cold-calling early next week. I'll have to let you know how it goes.
What assistance is needed from the SBC?
I would love a class or mentor in which together you can cold call businesses. Then, once the call is over, the mention/teacher/partner can help explain what went well, what didn't, and perhaps some ways of improvement. It's a weird idea, but for small businesses getting started, it could be an opportunity.
Who else needs to know about our services?
There are so many mom-and-pop type startups that don't realize the gem that is the SBC in their backyard. These same businesses could end up with a sky-high tax bill next year, for example, because they didn't know of the tax classes SBC offers. This especially is true with blue-collar service companies like landscapers and plumbers. Though I know this to be true, I can't offer any specific companies myself.
Lindsay Dinkins
L.D. Marketing
Ja'Net Adams
Ja'Net wrote the following testimonial about the Small Business Center:
"The Small Business Center has been a TREMENDOUS resource for me over the years! I have attended seminars through the SBC before my company started up until now. They have experts on board who are able to help me navigate various aspects of my business which is an immeasurable asset. I would recommend the SBC to anyone with or without a business."
The reason that she decided to start her business was that she recognized a global problem. People were suffering with their finances and didn't know how to control their money. She had paid off nearly $50,000 in two and a half years and knew that she could show others how to do the same. EMACK Consulting LLC was born! She decided on the name "Dream Girl" because she helps people live their dreams. Everyone has dreams, but too many go through life without those dreams becoming reality because of their finances. When she shows people how to control their money and become debt free, they are able to start working towards bringing those dreams into reality.
Her biggest challenge has been delegation. She likes to keep her hands on everything because she feels that she can do it better than anyone else and that it will be right. Her second challenge when first starting out was to realize that she cannot go to H&R Block for her taxes anymore. When her business grew, her taxes became complex. Someone introduced her to her CPA and it has been smooth sailing ever since. The third challenge was to understand that she can't take on every speaking engagement. She wants to help everyone that she can when it comes to finances, but in the beginning that led her to saying yes to speaking engagements that were complimentary or way below her fee. She stopped that once she went full time because she realized the most important treasure in her life is her time.
Her three biggest accomplishments:
Writing her first book "Debt Sucks!" and it being well received.
Being the featured story and the first Non-CEO African American in the top spot on BizWomenJournal.com.
Being able to take her son on her WFMY News 2 Debt Sucks TV segment.
Her two suggestions for other small business owners are (1) to use social media for their business and (2) to charge their value. Thanks to social media, she has no boundaries when it comes to business. She is able to interact with clients all around the world through Twitter and those clients are able to see her content through Facebook and her media appearances on LinkedIn. Clients are able to see her speaking style on YouTube and see how she practices her financial philosophy on Instagram through pictures. She now charges for her value. When she first started out, if she went to speak to 100 college students about financial literacy, she would back down if someone didn't approve of her $2,900 fee. In reality, the tuition to go to the college was $20,000 a student per year. If she was able to show one student out of that one hundred how to get control of their money so they don't drop out, she just made that college $20,000. Once she saw her value, she started charging even more and now she doesn't back down.
Ja'Net Adams
EMACK Consulting, LLC
Michael and Emily Roels
We decided to start Essential Balanced Bodywork because we wanted to help people suffering from pain heal with a therapy that most people don't know exists. We also wanted to provide a high quality advanced level of massage therapy that would enhance our client's quality of life.
Essential:  We all have a body and it is the most amazing machine on earth. All machines need maintenance.
Balanced:  Taking a holistic approach to create an individualized treatment for each client. Treatments are based on past and present mental and physical traumas including car accidents, injuries, surgeries, etc.
Bodywork:  As licensed massage therapists we have the ability to manipulate soft tissue in the body, which are muscles. Most traditional therapies focus on one's symptoms, not the underlying problem. Typically, what's causing the symptoms are not located where we feel our pain.
Our three biggest challenges have been:
Overcoming the stigma of what most people think about massage therapy. Massage chains offer low prices for massage. Typically there is a high turnover and your therapist is more than likely new to the profession.
Time management; to be a great therapist you need to take care of yourself and not burn yourself out.
Choosing the proper marketing techniques for your type of business. There are many options for advertising and some are very expensive and ineffective.
We are pleased that our three biggest accomplishments are:
Helping hundreds of people in our first year experience relief from their pain when traditional medicine and other therapies were ineffective.
Being elected as a board member of the Lewisville-Clemmons Chamber of Commerce, which was a huge honor.
Being asked to serve on the Advisory Board for the Small Business Center at Forsyth Tech at Innovation Quarter.
One thing that we would you do differently is to have interviewed more people for creating our original website.
Our suggestions for current or existing business owners are as follows:
Networking groups are a great resource for a new business.
Get involved in the community.
Work hard but don't burn yourself out.
Be patient.
Have faith in your purpose.
Have fun!
Michael and Emily Roels
Essential Balanced Bodywork
Emeka Anazia and Carrie Anazia
Emeka and Carrie both achieved great success in college, while overcoming great adversity. During college, they always found ways to mentor current college freshmen and anyone who was college bound. Upon graduation they both wanted a way to continue sharing their tools of success, but on a grander scale. Therefore, they created Acing The Undergrad. Emeka and Carrie believe that every student can be successful in college if they are aware of the college fundamentals and consistently apply them! Emeka and Carrie's goal is to make this a reality for each student who desires to become a college graduate. We recently interviewed them.
What is going well?
Our next wave of products, new website, and upcoming web series is going well for our business. We have successfully finished our pilot Acing The Undergrad mentoring program, and will be ready to make it a national program next year.  View it here.
Describe two or three big successes in the past six months?
Our book, Acing The Undergrad: Your Personal Mentor, has been accepted by two colleges to be used as instructional material in their freshman orientation classes. We are also partnering with local high schools by providing our services to their students.
Describe a big challenge moving forward?
Our biggest challenge moving forward is creating exposure for our business. We are working diligently to get our name out there, so people can know about our resources and services for college students.
What assistance is needed from SBC?
We would love assistance with brand awareness from SBC.
Who else needs to know about our services?
The SBC is a great resource for any business owner, especially new business owners, and anyone thinking about starting a business. Its a great place for entrepreneurs to learn about starting or growing their business. Being involved with SBC is also great for networking with other small business owners.
Emeka Anazia and Carrie Anazia
Acing the Undergrad
Pam Rea's Angels Without Wings
Pam Rea strives to bring socially relevant theater to Winston-Salem, North Carolina through her play Angels Without Wings. The play depicts the recovery of an addict with the help of "angels without wings." These everyday people possess the ability to assist the addict on his or her journey to health.
Addiction is a crippling disease. According to Pam, "We operate from fear. People lose something and that leads them to the top of the triangle where they're really upset and not seeing things clearly. And when they come down the other side, it leads to using substances because they're so upset and that leads them to the base and it's just an eternal triangle if you don't break the cycle… learn to live a different way."
Angels Without Wings originates from Pam's own experience with addiction. She wrote the play while in a treatment facility. She is currently in recovery and her play is part of a healing process not only for herself but for anyone struggling with any form of addiction.
Pam began using cocaine after losing almost all of her immediate family members. She then became a Christian, acquired a meaningful job, got married, and had a daughter. However the combination of a challenging job and marriage trouble led Pam to abuse alcohol. Because she was a gastric bypass patient, she developed a peptic ulcer and woke up one day in the hospital with internal bleeding. The doctor told her that recovery was unlikely, but recover she did. "God had a plan for me," Pam says. She entered treatment in Fort Lauderdale because of its funding for mental health and addiction services.
Pam's treatment center decided to hold a talent show for its patients. "One of the things that I found in recovery was that I could write songs… I started writing songs on the back of envelopes," states Pam. She wrote a skit so that the other patients could have a chance to act or sing or dance. The skit became Angels Without Wings.
The play contains two acts and consists of angels without wings, the addict, the disease itself, and characters that personify concepts. Other characters are the Lost Child and Scapegoat who represent members of a chemically dependent family. One character is even portrayed as an alcoholic pregnant teenager to emphasize the cost of fetal alcohol syndrome.
The characters that comprise the 12 Steps toward recovery personify ideas such as self-honesty, faith, courage, integrity, and willingness. Pam says about the steps: "Self-Honesty kicks the Disease right off the stage and says, 'leave, leave now.' The third step is Faith and it's portrayed as a homeless woman and she comes out there with her bags and everything. And then we have the fourth step, Courage. Courage is portrayed as a person that gives inspiration to the addict. The fifth step is Integrity and then the sixth step is Willingness. Willingness comes in to give a different kind of inspiration, her step is preparing the addict for recovery."
Pam brought forth the concept of angels without wings from the people that had helped her on her road to recovery. "I called them angels without wings because they're everyday people…. My concept is for someone to remain clean as a personal choice and that's why the angels without wings have the power to drive off the disease; but the Steps, their power is that they inspire the addict to find his or her own way."
Pam also created a Spanish version of her play. She says, "Even though addictions are universal, the way you enter into them is cultural." A character who is portrayed as a superhero in the English version is portrayed as a grandmother in the Spanish version.
Angels Without Wings premiered in the tri-state area of New Jersey, New York, and Connecticut and ran for about two years. The play ran off-Broadway and Pam recalls an opening night in New York City when people flocked to her play because of Broadway strikes. Angels Without Wings opened in 2015 in Winston-Salem. The play typically runs in September and October and venues include colleges, churches, and theaters.
Pam moved to Winston-Salem in 2013. A victim of severe domestic violence, she relocated to North Carolina so that her attacker could not find her. Next Step Ministries helped her find her current home in eastern Winston-Salem, an area Pam says is greatly damaged by drugs. "I decided that that was where I was gonna move because I wanted to find out exactly what drove dynamics."
Pam came to the Small Business Center at Forsyth Technical Community College for advice in reestablishing her business in North Carolina. She attended some of their classes and made the Small
Business Center her "main home." Pam says about Forsyth's Small Business Center: "It's not just the classes, they have consulting too. And the consulting, people don't realize how valuable that is. I was able to do the paperwork to register a business with North Carolina, I was able to relocate."
Pam has now applied for her own non-profit organization and hopes that North Carolinians will support Angels Without Wings with their attendance at plays and with donations. She found that running a theatrical performance in North Carolina is different from running it in the Northeast. "Everything [in North Carolina] is based on establishing a personal relationship… it wasn't really necessary up in New York and New Jersey. People are nosy and would come out and see things and then get engaged. Down here you have to develop a relationship with people to lead to the engagement."
Pam sees a bright future for Angels Without Wings. She plans to film a performance of the Spanish version of the play and will distribute it throughout the Latino populations in the United States. Pam has even established contacts in Cuba, as the country has been recruiting businesses after the dissolution of the embargo.
Pam has been spent several years crafting a screenplay for the English version. Pam enthusiastically lays out the trailer for the screenplay: "The addict loses her computer-engineering job and when she comes home she's going to have her laptop and she's going to be so upset. She's going to say 'I've lost my job, you've hurt my family' and then you're going to hear a voice saying 'Come out to play." And she's not going to know what this voice is and is going to throw her laptop in the air to land on the couch and then you're going to see the disease- portrayed as a drug dealer- on the laptop and he's going to pull her into his world. That's the trailer I'm going to use to pitch for a big screen production of Angels Without Wings because that's where I see the English version going."
Not only does Pam have both an English and Spanish play, but cites a South African version as one of her long term projects. "In the English version, the mightiest of all the angels without wings is Prayer, and Prayer takes the addict the final step of realizing what it takes to stay clean. But in the South African version there's gonna be another angel without wings called Network. And Network's ability would be to bring people to the room where an addict is to help the addict stay clean forever." The play's finale will take place on the beach of Johannesburg, a site of racism and gang warfare.
The play has touched the lives of many people. A man approached Pam after a show asking "how did you know how I was feeling?" He had experienced addiction for over 25 years and had entered treatment 13 times. He had never spent longer than 3 weeks in treatment. Pam told him, "I'm not gonna tell you how to contact me because I believe that my higher power will lead you to me." Three and a half weeks later she received an email from him. He was in treatment, and at three and half weeks had already surpassed the longest amount of time he had ever remained there. They began writing back and forth and the man has now not only been clean for 8 years, but has a job.
Angels Without Wings is a testament to the power of socially-relevant theater.
Pam Rea
Angels Without Wings
Dawn Peters
Black Mountain Chocolate is a purveyor of small batch artisan bean-to-bar chocolate located in Reynolda Village and Trade Street in Winston-Salem. Dawn Peters, the company's Creator of Chocolate Happiness, contacted the Small Business Center to discuss it's services.
"I'm a former teacher, and deciding to purchase Black Mountain Chocolate with my husband, Brent, a tax attorney, is a second act for us," Dawn says. "I had no retail experience before opening up our retail shop in Reynolda Village in November 2013. My 10 one-on-one counseling sessions with Allan were invaluable. Our business involves marketing, finance and production—we can't be experts in all of them, so that's why I consulted with Allan."
Before opening their production facility on Trade Street the Fall of 2014, Dawn took face-to-face classes in the Small Business Center in QuickBooks and social media marketing, as well as online business modules that she could explore at her own pace.
Is it too early to tell if all the careful preparation is paying off? "Sales so far are well above expectations," says Brent. "We believe our early success came directly from Dawn's one-on-one counseling with Allan."
Dawn Peters
Black Mountain Chocolate
Krishauna Hines-Gaither and Julian Gaither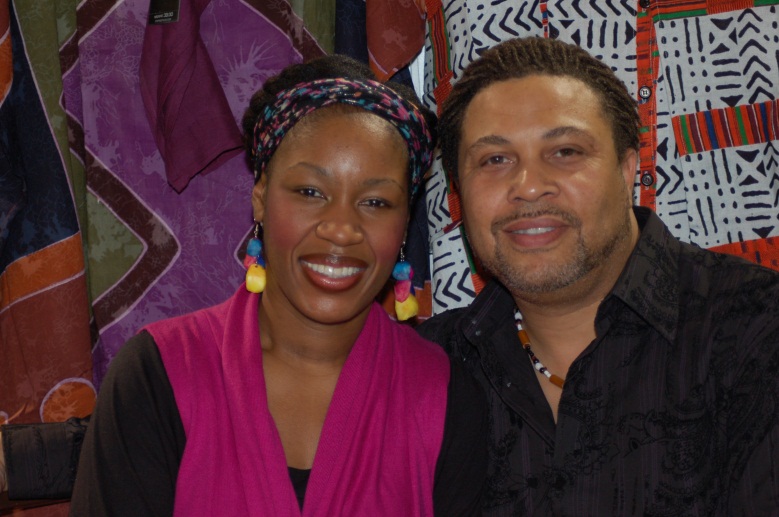 Julian Gaither's church in Clemmons supports an orphanage in Kenya. Every two years, he travels there on a mission trip. When he returns, he brings back beautiful jewelry from a local market for his wife, Krishauna.
Their friends loved the jewelry, Julian says. "People made a big deal about it," he recalls. "So we thought, well, maybe we could make a business out of this. It would be a way of giving something back to the community."
The next step: Julian and Krishauna (a Forsyth Tech alumna and Spanish instructor at Salem College) contacted the Small Business Center. "I met there with a counselor, Dick Vann, initially, and I took a few of the small business courses. The people were really helpful and encouraging," Julian remembers. "It made a tremendous difference; it gave me the confidence to go ahead and pursue it and see what I could do."
Once he made that decision, Julian contacted people at the orphanage, sent some money over and asked his friends there to buy some jewelry at the local market. He and Krishauna rented a kiosk at the Marketplace Mall on Peters Creek Parkway and the business took off.
"The jewelry is from the Masai people," Julian notes. "They have an open market there every Friday; that's where I would go to get gifts to bring back home."
As the business grew, it also branched out. "Now we also have things from Nigeria, Ghana, Senegal, Liberia, China and India," Julian says. Although the business is for profit, he sends back a portion of his profits to the orphanage in Kenya.
The business celebrated its first anniversary on April 15. February was a particularly good month; "We had a lot of shoppers because it was Black History Month. It was great. We've had a tremendous amount of support from the community."
Imani African Jewelry and Accessories is located in the center aisle kiosk at Marketplace Mall, 2101 Peters Creek Parkway in Winston-Salem, and is open Friday and Saturday from 10 a.m. to 8 p.m. with
extended holiday and summer hours.
Krishauna Hines-Gaither and Julian Gaither
Imani African Jewelry and Accessories
Ken Craven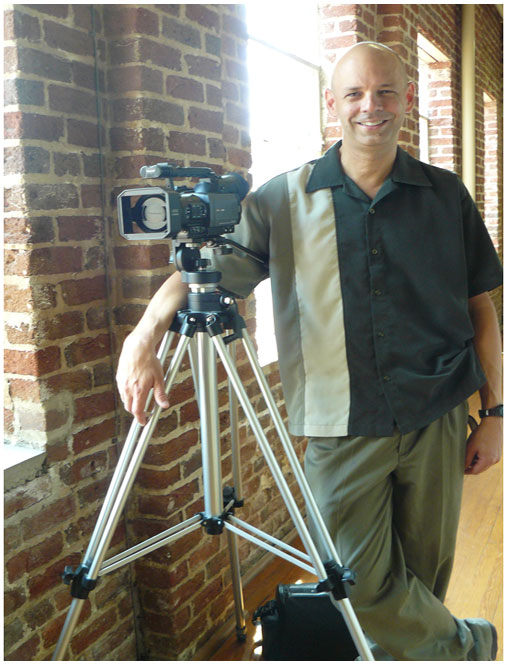 When Ken Craven was laid off in September 2009, he did his best to find a job doing what he had been doing for years: video production. But after sending out about 500 resumes and getting only a few interviews (and no job offers), Ken decided a change was in order. "I had a few of my previous clients call me that were interested in having me do video production and my first reaction was, 'Absolutely not. I'm never going to do that again,'" Ken recalls. Instead, he developed an idea for a wholesale import company, and went to the Forsyth Tech Small Business Center to get some advice on how to set up the business. There he met with Richard Vann who, after talking to Ken, steered him in a different direction – backwards.
"He really helped re-direct me back into what my real profession was," Ken says. "He thought since clients were seeking me out that I should re-think the video business. So I gathered my equipment and started free-lancing, and the freelancing has developed into me starting my own business." The guidance and support he's received at the Small Business Center, Ken says, has been vital in many ways. "They helped me out with direction and also just understanding what needs to be done as in filling out the paperwork, understanding the process, the little things, the basic things so many people don't understand. The average person who's never owned their own business has no idea the amount of paperwork and red tape that goes on to get a business started."
Now, with his freelance business growing, Ken isn't interested in finding a fulltime job working for someone else. Instead, he prefers to grow his own business. "It's rapidly going from freelance producer to small business owner," he says, and credits the Small Business Center with helping make that happen. "They played a pretty big roll."
Ken Craven
Forsyth Tech Small Business Center client
Barry and Pamela Johnson
In August 2013, Barry and Pamela Johnson began their relationship with the Small Business Center at Forsyth Tech. They participated in our seminars during their quest to embark upon a new business venture.  They continued to participate in seminars and engage in business counseling.  They have now started their business and meet with a business counselor on a monthly basis.
The Johnsons decided to start their own business because they wanted freedom over their time, independence, and the pride of being small business owners.  They firmly believe that small business owners are the backbone of our country.   They bought into the franchise of Zippy Shell which is a mobile self-storage and moving business.  They chose Zippy Shell because its model provided a well-laid plan to be successful in business. The business is asset-based and the start-up phase did not require other employees. Also, there is no perishable stock, and they liked the idea of providing a needed service to the community.
The Johnsons three biggest challenges have been and still are capital, marketing, and unresponsive vendors.  Daily expenses quickly eat up their revenues during the startup phase.  We will continue to work with the Johnsons regarding revenue generation and cost management.  Finding the right marketing strategy has been a significant challenge also. Surprisingly, they have had a big challenge with unresponsive vendors.  We will continue to work with the Johnsons regarding marketing strategy.  Unfortunately, other small businesses have proven to be in no hurry to provide the Johnsons with their services.  We will continue to work with the Johnsons regarding vendor management.
The Johnsons three biggest accomplishments are as follows:
Getting everything in place to start this venture.
Being asked to be a part of the media tour of Forsyth Tech at Innovation Quarter.
Stepping out of their comfort zone and acquiring new skills.
I asked them what two things they would do differently.  Their response was that they would have started taking the seminars at the Small Business Center sooner.  They feel that they missed some seminars that could have helped during the startup stage.  They also would have acquired more capital before starting.
Piedmont Zippy Shell has several customers and numerous inquiries each week.  Their marketing efforts have created a buzz here in the Piedmont Triad.  I am very pleased that we will continue to partner with the Johnsons as they experience even more success.
Barry and Pamela Johnson
Piedmont Zippy Shell