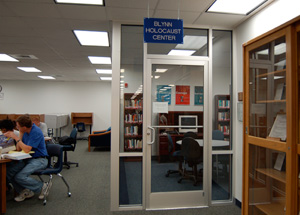 Blynn Holocaust Collection
The Blynn Holocaust Collection is a repository of materials dealing with the 20th century destruction of the European Jews. As a special collection of the Forsyth Tech Library, it is intended to meet the needs of students and others from the community who have an interest in learning more about the Holocaust. The collection also serves to facilitate to the greatest extent possible the integration of lessons to be learned from the study of the Holocaust into all academic areas of the college.
Materials of the Holocaust Collection are in large part made possible through the donations of Mr. Guy M. Blynn and have been selected with the aim of raising awareness of the Holocaust and its consequences. Currently the collection consists of close to 400 specialized resources including books, DVDs, videos and a unique collection of Holocaust testimonies of survivors who have called North Carolina home. The materials are housed in the Blynn Holocaust Collection room, established in October 2001, in the Learning Center of Ardmore Hall.
Hours of Operation
Monday — Thursday…….7:30 am – 9:00 pm
Friday…………………………7:30 am – 3:00 pm
Saturday……………………..9 am – Noon (Fall and Spring only)