(WINSTON-SALEM, May 9, 2012) – Jane Oates, Assistant Secretary of Employment and Training Administration (ETA), Department of Labor, will be the speaker at Forsyth Technical Community College's commencement exercises on Thursday, May 10. The ceremony will be held at 7 p.m. at Lawrence Joel Veterans Memorial Coliseum in Winston-Salem.
Oates was nominated by President Barack Obama to join the leadership team at the Department of Labor in April 2009. Since then, she has been a tireless advocate for helping workers gain the skills and credentials needed to enter careers that pay family supporting wages and offer opportunities for advancement. Oates is no stranger to Forsyth Tech. She toured Forsyth Tech's JobsNOW welding programs three years ago to see first-hand how Forsyth Tech was using stimulus money to train workers and put them to work in six months or less.
"Ms. Oates is a strong supporter of Forsyth Tech's mission to educate and train students for in-demand jobs that offer opportunities for career advancement," said Dr. Gary Green, President, Forsyth Tech, when asked why Oates was selected as commencement speaker.
Oates served as Executive Director of the New Jersey Commission on Higher Education and Senior Advisor to Governor on. S. Corzine. For nearly a decade, she served as Senior Policy Advisor for Massachusetts Senator Edward M. Kennedy with who she worked on a variety of education, workforce and national service legislative initiatives, including the Workforce Investment Act of 1998. She received her B.A. in Education from Boston College and an M.Ed in Reading from Arcadia University.
Approximately 1,200 Forsyth Tech students will earn associate's degrees, certificates and diplomas that signify completion of their programs of study during the May 10 commencement ceremony.
The graduation ceremony is open to the public at no charge, and there will be no charge for parking at the Coliseum.
First Early College of Forsyth Graduates to Share Stage with Forsyth Tech Graduates
Forsyth Tech's first Early College of Forsyth class will also graduate on Thursday, May 10.
Fifty Early College seniors (representing 100% of the class) will attend their Early College High School graduation at noon on Thursday, May 10, 2012, at the LJVM Coliseum Complex.
Forty six of those seniors will then return to the LJVM Coliseum that same evening to receive their AA and/or AS degree along with the 1,200 Forsyth Tech graduates.
Here are some of the statistics from the first Early College graduation class:
46/50 seniors earned their AA and/or AS degree in four years instead of five
5/46 seniors will also graduate with both an AA and AS degree at the evening commencement ceremony
41/50 (82%) graduates have been accepted into a senior university or recruited into the military
Graduates of this Early College graduating class have earned over $1 million in grants and loans for their transfer to a four-year college
Two graduating students have received Presidential Scholarships to Campbell University in the amounts of $52,000 and $56,000 respectively
Early College of Forsyth is a joint program of the Winston-Salem/Forsyth County Schools and Forsyth Technical Community College. It's a four-year high school that gives students the opportunity to complete the requirements for a NC high school diploma and at the same time earn a two-year college degree tuition free. Students enter this program as a high school freshman and in four years can graduate with enough college credits to enter a two- or four-year college as a sophomore. Or, students can stay for a fifth year, earn an AA or AS degree, and enter a four-year college as a junior.
Forsyth Technical Community College offers associate degrees, diplomas and certificates in more than 200 programs of study. Forsyth Tech's Economic & Workforce Development programs promote personal and professional development with non-credit courses and seminars and provide customized training for business and industry. Forsyth Tech serves more than 50,000 students with approximately 1,150 full and part-time faculty.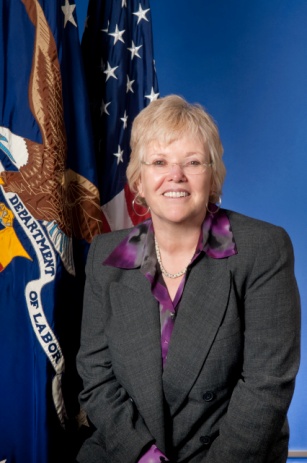 CAPTION: Jane Oates, Assistant Secretary of employment and Training Administration, Department of Labor, will be Forsyth Tech's 2012 commencement speaker on May 10 at 7 pm at the Lawrence Joel Veterans Memorial Coliseum in Winston-Salem.