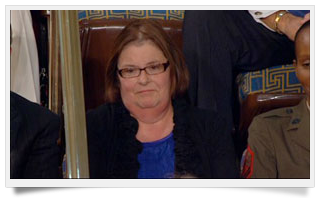 Meet Kathy Proctor
In his December, 2010 trip to Forsyth Tech, President Barack Obama met one particular student who made quite an impression. Her name is Kathy Proctor, and the President was so taken by what she had to say that he invited her to attend the State of the Union address on January 25, 2011. In that address, the President included these remarks about Forsyth Tech and Kathy Proctor:
Because people need to be able to train for new jobs and careers in today's fast-changing economy, we're also revitalizing America's community colleges. Last month, I saw the promise of these schools at Forsyth Tech in North Carolina. Many of the students there used to work in the surrounding factories that have since left town. One mother of two, a woman named Kathy Proctor, had worked in the furniture industry since she was 18 years old. And she told me she's earning her degree in biotechnology now, at 55 years old, not just because the furniture jobs are gone, but because she wants to inspire her children to pursue their dreams, too. As Kathy said, "I hope it tells them to never give up."
Watch or read the entire State of the Union address here.
See the Forsyth Tech and Kathy Proctor references, via The Washington Post, here.
Read reactions from staff and faculty to the President's mention of Forsyth Tech here.
As the President said, Kathy is a 55-year-old mother of two. She grew up in Trinity, North Carolina and still lives there. She worked for over 30 years in the furniture business and went through several layoffs as the companies she worked for went out of business. A few years ago, she began taking classes to earn her degree but had to put her education on hold because of family obligations. Then, in 2009, she was laid off yet again and took that opportunity to go back to school fulltime and finish earning the college degree she had started a few years before. To learn more about Kathy and the connection she made with Barack Obama, we recently interviewed her.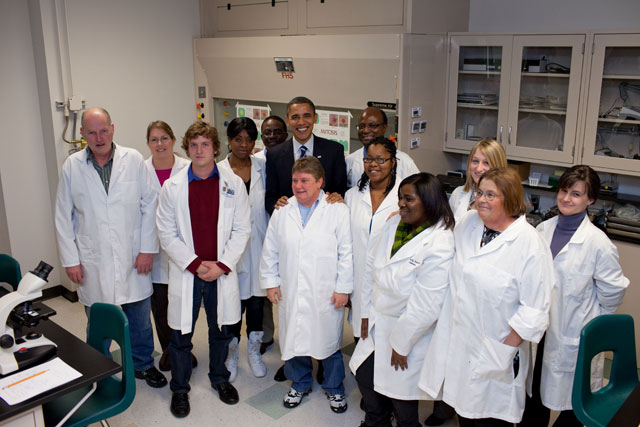 Tell us about meeting President Obama during his visit last December.
"He came in the room and went around and shook everybody's hand and met everybody. He talked a little bit about education and asked if anybody had a story they'd like to share and I said I would. I told him how I'd worked in the furniture industry for 30-plus years and got laid off in February of 2009 and decided to seize the opportunity to continue what I had started before, and that I was trying to impress and set an example for my children so they'll get an education. And he asked me, 'So you saw this coming?'"
And did you see it coming?
"I guess in some aspects I did. You know, six or seven years ago you started hearing about furniture being made in China and you started seeing little places shut down. I had worked at one place that had shut down, and I remember when I was working there that a company came to us with some furniture components they had gotten from China that weren't the right color. They wanted to know if we could fix them, so we gave them a price. And they said no, because they could order more new components from China and have them shipped in for less than it would cost to have us fix the ones they had. And you can't compete with that. That's when I started going back to school."
Why did you choose to go into biotechnology?
"Biotechnology seemed like it was a good fit for me because I like working with my hands. And it's a growing field – I think it's supposed to be the 3rd in the nation as far as job growth. And it's interesting in the advances that they're making in science."
And why did you choose Forsyth Tech?
"I came up here for my first biology class, and I really liked the teachers. The teachers here really care about the students learning. They're there anytime you have questions. There are just really good people here at Forsyth Tech. And they really have a good Biotechnology program here. They work very closely with the North Carolina BioNetwork. We can go there and take any classes for free."
What do you hope to do with your degree?
"I'm interested in biofuels and studying alternate fuel sources. I'm really interested in going into the environmental sciences."
Tell us about getting the call to go to the State of the Union address.
"I was driving down Interstate 40 when my phone rang and I answered it. I was on my way to meet my daughter for lunch. It was unbelievable. I was excited, but I just couldn't believe it. And you think, 'Why me?' It's an honor. It's just a real honor to be chosen."
The President quoted you as saying you hoped getting your degree would inspire your daughters. Has it?
"Yes. Both my girls plan on going to college. Megan has been accepted at Meredith and got a $40,000 scholarship – $10,000 a year for four years. And Amanda has already applied here at Forsyth Tech. She wants to go into the Dental Hygiene program."