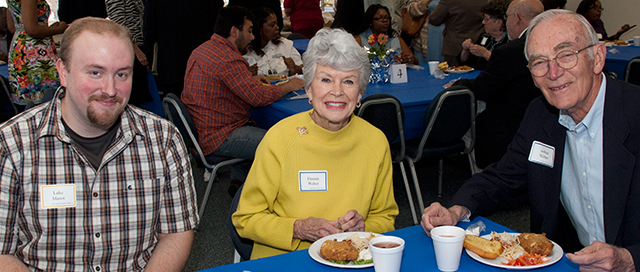 Our scholarship donors meeting with our recipients.
Forsyth Tech is your school. Show your pride in your support.
Giving to Forsyth Tech
Like all schools, Forsyth Tech depends on the generosity of our friends and alumni to help us handle our growth and plan for the future. We welcome donations large and small to The Foundation of Forsyth Tech to support educational excellence through student scholarships, faculty professional development and the funding of state-of-the art technologies.
Where Your Dollars Go
The Foundation of Forsyth Tech has three priorities in serving the College. The first priority is scholarships for students. While tuition at Forsyth Tech is low in comparison to four-year universities and colleges, we still have students who due to their circumstances cannot afford it. Most Forsyth Tech students work at least part-time, some are single parents and more are those who have just been laid off or downsized due to the economy.
The second priority is providing new technology on which instructors teach. We want our students to have the best learning experience possible. That means training on state-of-the-art equipment they will find when they go into the workforce. This priority gives our students actual time on the equipment they'll be using and reduces their learning curve on the job when they graduate.
The third priority is providing faculty and staff professional development. Our instructors and staff need to be at the top of their field. To do that, they require continuing education. The Foundation of Forsyth Tech tries to help that process.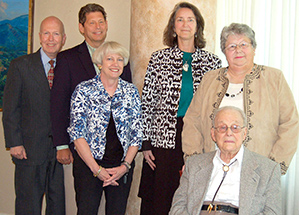 The Foundation of Forsyth Tech
The Foundation of Forsyth Tech was founded in 1974 to help provide additional funding for the College. After few successful fund raising events the Foundation became dormant. It was reactivated in 1997 due to the foresight of several members of the Board of Trustees, the then current president, Dr. Desna Wallin, and numerous members of the community.
Currently the Foundation of Forsyth Tech conducts an annual campaign for both individuals and businesses, offers planned giving, special events, memorial and honor gift opportunities, and the "Buy A Brick Campaign" for the Alumni Oval.
Alumni Services
We encourage all alumni to visit our Alumni Services Website and learn about special events and other activities.
Your gift to Forsyth Tech helps fund many of our scholarships, projects and other initiatives.Give Now!