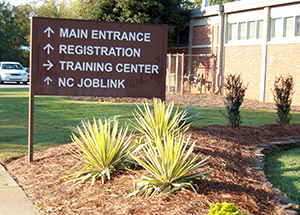 We never turn away businesses who turn to us for training.
One of the primary missions of Forsyth Tech – and all North Carolina community colleges – is to supply local businesses with a well-trained, well-educated workforce. To accomplish that, we offer a variety of programs to help local businesses succeed.
Courses in Workforce Skills are designed to provide a better-educated and more versatile workforce and allow you to meet your customers' demands more quickly and efficiently.
Our Leadership & Workforce Development
training and Six Sigma & Lean Manufacturing training can give your employees the skills they need to keep your business competitive in today's punishing economic environment.
We can develop Customized Training to fit the specific needs of your industry or business situation. The training can be on-site at your facility or at any of our campus or center locations, and can be offered at a time to fit your schedule and deadlines.
To learn more about our capabilities and services, download a copy of our Corporate and Continuing Education brochure.
Corporate Training Success Stories
Meet real business people who have taken advantage of the business training available from Forsyth Tech…
For KobeWieland Copper Products in Pine Hall, we helped create an apprenticeship program, supplying everything from basic computer training to advanced industrial training.
For DAC Products in East Bend, we provided highly customized training in areas such as Lean Manufacturing.
For Phillips & Cuthrell, DDS PA, a Winston-Salem dental practice, Forsyth Tech experts provided on-site training in techniques to raise their level of customer service.
We can also provide assessments, advice or whatever else you need to make your business successful. As a community college, we serve the business community in any way we can.
Tech Quarterly
Download Tech Quarterly to read stories of Forsyth Tech successes, advancements, history and future plans.