ADA & Accessibility Resources
The Americans with Disabilities Act of 1990 (ADA) is the civil rights guarantee for persons with disabilities in the United States. It provides protection from discrimination for individuals on the basis of disability.
Questions/Contact Information
Employee Accommodations
If you are currently employed or are a potential employee and would like to request an accommodation, please contact Forsyth Tech Human Resources Manager, Rachel Schroeder rschroeder@forsythtech.edu.
Digital Content Assistance
Accessibility Definitions
Accessibility: All people are afforded the opportunity to acquire information, engage in interactions, and enjoy services in an equally effective, equitable and integrated manner.
Digital Content – Information, products, and services available for download or distribution in an electronic format or presented on a web page or through a web or other computer application.
Technology Accessibility: Providing an equitable opportunity for delivering and navigating information in a way that can be understood by all who receive it, regardless of how they obtained the content, whether that be traditional computer or mobile device; or received through the use of various accommodations such as alternative formats.
Voluntary Product Accessibility Template (VPAT): Document that explains how information and communication technology (ICT) products such as software, hardware, electronic content, and support documentation meet the Revised 508 Standards for IT accessibility.
Who Is Responsible?
Accessibility is a shared responsibility. Accessibility Resources, Information Technology and The Center for Teaching and Learning are available to help guide the college, but it is up to everyone to comply. Digital content touches every faculty and staff member, every student, and anyone in the public who may be accessing Forsyth Tech's website or materials sent from faculty and/or staff. The Digital Content Policy will enhance equity in all divisions, departments, programs, and offices.
President
Provost
Vice Presidents
Deans/Directors
Department Chairs
Program Coordinators
Any employees (including students) who send emails, creates documents & presentations to be shared with others either within the college or community.
Anyone who uses web pages to provide services, programs, or activities including Blackboard, Techlink, and Social Media.
Any individual who creates or edits the college's affiliated web pages.
YOU!
Physical Accessibility
Forsyth Tech is committed to a policy of non-discrimination in employment and education and strives for compliance with the requirements of the Americans with Disabilities Act (ADA). If a physical environment appears inaccessible, please contact the Accessibility Resource Office.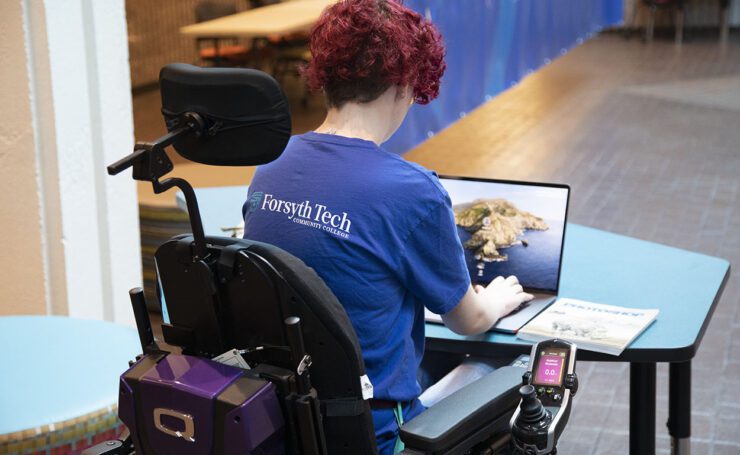 Physical Accessibility Examples
Water fountains are accessible for use to individuals with disabilities.
Power-assisted and automatic doors are used throughout the campus to allow individuals assistance using doors.
Safety mats are placed in the doorways of building entrances.
Handrails are also installed at most power-assisted or motorized door entrances.
Restrooms are available with power-assisted doors and accessible stalls with handrails and toilets mounted at the appropriate heights.
Elevators are wide enough for motorized and manual wheelchairs.
Elevators have Braille buttons accessible to individuals with visual impairments.
Parking is available for individuals with disabilities with spaces available for van accessibility.
Ramps and sloped curbs are also available throughout campus to assist accessibility.
Entrances, classrooms, and most offices have doorways that are accessible.
The auditorium has space available for individuals in wheelchairs.
Forsyth Tech is committed to educating our entire student body with diverse learning needs along with providing an inclusive and accessible digital environment for all members of our community. It is the policy and practice of Forsyth Tech to adhere to federal and state regulatory guidelines required for accessibility to create inclusive and accessible learning environments.
Federal accessibility mandates take many forms, such as physical environments (buildings, elevators, ramps, and sidewalks) but also web and digital environments, which is the focus of the Digital Content Accessibility Policy. The College's Technology Accessibility Committee creates awareness and archives resources for staff and faculty to learn about ADA compliance and creating accessible educational materials. This policy mandates that all employees and students are required to follow the College's Accessibility Plan and all federal, state, or other regulatory guidelines and laws when creating and distributing content digitally.
Faculty and staff are responsible for understanding how to create accessible digital content and must complete training, at least once a year, for making documents and other digital materials accessible. Accessibility is not a one-time effort but must be incorporated into every activity on an ongoing basis. Forsyth Tech is responsible for promoting and maintaining an accessible environment to help ensure that everyone may access, benefit from, and contribute to the college's programs and services. All employees, including student employees, must comply with this policy for any digital materials that they create, procure, or maintain.
This policy applies to all Forsyth Tech digital content regardless of audience or authentication required, including but not limited to websites, video and audio content, electronic documents, desktop, mobile, and cloud-based software applications, content management systems and learning management systems, Interactive tools and platforms, email and calendars, library resources, social media, digital research products, and digital content and materials used in a course.
Failure to comply with this policy, may put the college at risk for penalty including civil and/or criminal lawsuits. There could be disciplinary consequences for employees who do not adhere to this policy.