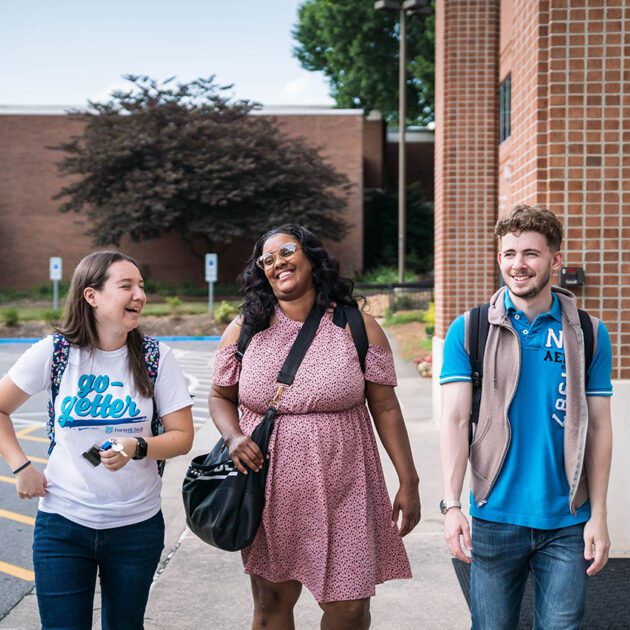 We're Here to Help You
Scholarships, grants, Pell Grants, loans…financial aid can seem pretty complicated. The Forsyth Tech financial aid team is here to help you and your family navigate the process of understanding and applying for aid, and make your education as accessible and affordable as possible.
34 %
of our students are Pell grant recipients
42 %
of our students are Title IV Financial Aid recipients
over 50
institutional scholarships available
Financing Your Education
There are several kinds of financial aid: scholarships and grants, which do not need to be repaid; and loans, which must be repaid. Grants and scholarships may be need or merit-based, and have different requirements depending on the source of aid. After applying to Forsyth Tech, fill out and submit the FAFSA. Then contact our Financial Services Office if you need more help.
You can also visit our online Financial Aid Counseling Center to take self-paced courses on budgeting, credit scores, and other important financial topics.
Learn More About Types of Aid
A Step-by-Step Guide
Check Out Free Aid
You should always explore sources of free aid (those that do not require repayment) before considering taking out a loan to finance your education. There are a wide variety of grants and scholarships based on need, merit, academics, and extracurricular interests.
Explore the FAFSA
Explore Work Study
Another way to cover educational expenses is by working a part-time job while enrolled at Forsyth Tech. All on- and off-campus jobs pay at least the federal minimum hourly wage.
Apply for Federal Loans
If you need more coverage than grants, scholarships, and work-study employment provides, you may want to consider a federal student loan. Loans must be repaid, and some may accrue interest, so explore other forms of financial aid before opting for a loan.
Supplement With Private Loans
Lenders such as banks and credit unions offer private loans, which may be a useful form of funds if you still need to close a funding gap. Check terms of the loan (such as interest rate, repayment, and requirements) carefully before applying.
How Do Student Loans Work?
Unlike other forms of aid, loans must be repaid to the lender. It's important that you understand how much you are borrowing in total, and how and when you must pay it back.
All About Interest Rates
Interest is the cost you pay for borrowing money from a lender. If you have subsidized loans, you are not responsible for paying the interest that accrues while in school. If you have unsubsidized loans, you are responsible for the interest that accrues, even while you're in school.
Interest rates and fees tend to be lower for federal student loans vs. private student loans.
Interest is calculated as a percentage of the unpaid principal amount you borrowed:
Interest amount = (unpaid principal balance X interest rate) x number of days since last payment
Interest accrues (adds up) on your loan each day. The rates for direct loans first disbursed (paid) on or after July 1, 2022, and before July 1, 2023 are 4.99% for Undergraduate students and 6.54% for Graduate or Professional students.
You will not be able to pay down the principal amount of your loan until you've paid all your unpaid interest. Please contact the Financial Services Office to ensure you understand the terms of any loan you take out.
Fees
Loan fees are calculated as a percentage of the total loan, and are subtracted from the loan amount before it is disbursed to you. That means you will receive a smaller amount than you borrowed, but you are still responsible for repaying the entire amount of the loan, plus any interest that accrues.
Repayment
Your loan(s) must be repaid–including all accrued interest and deducted fees–within 10 years after you stop attending school. You must repay your loan(s) even if you do not complete your education, you are not satisfied with your education, or you cannot find employment.
You must notify your lender (or current holder) in writing if you:
Change your name, address, or phone number
Transfer to another school
Drop to less than half-time or withdraw
Change your graduation date
Before leaving Forsyth Tech, you must attend an exit interview. If you need help with figuring out the payment schedule of your loans, please contact our Financial Services Office.
Deferment & Forbearance
If you are unable to repay your loan(s), you may request to postpone repayment by requesting a deferment or forbearance. You may apply for a deferment at any time during your grace or repayment period. Please contact your lender or the USF financial aid office for a list of current deferment options.
If you do not qualify for deferment, another option is forbearance. Your lender might allow you to stop making payments temporarily. They may also extend your payment period or allow you to make payments in smaller amounts than originally scheduled.
The main difference between deferment and forbearance is that deferment can be interest-free for certain types of loans. Forbearance accrues interest, increasing the amount you must repay. Forbearance could be a reasonable option if your financial challenge is temporary, but it is not a good long-term solution.
Need more information?
Services are currently available in the Allman Center (Main Campus) during the following hours.
8 am – 6 pm Monday – Thursday
8 am – 5 pm Friday
Phone: 336.734.7235
Email Financial Aid