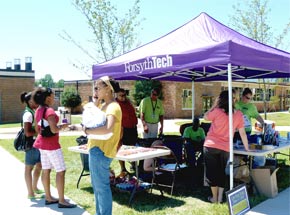 Upcoming Registration Dates
The following are open registration dates for each semester.  Please note that the hours of registration are 8:00 a.m. through 6:30 p.m.  To register for classes, you must first complete the Admissions process.
Summer 2014
Classes begin May 16, 2014
Early Registration- April 14-15, 2014
Late Registration- May 15, 2014
For additional information about upcoming registration dates, please contact the Admissions Office at 336.734.7556 or admissions@forsythtech.edu.
Refund Policy (Specific Deadlines Noted Above)
100% refund for courses dropped officially before the term begins
75% refund for courses dropped officially before the 10% point for that course during the term
No refund for courses dropped after the 10% point of the term
Students can drop courses themselves through WebAdvisor until the term begins. After the term has begun, students must complete a drop form and submit it in person (to the Records Office, to their advisor, or to the Information Desk at any of the off-campus centers except West Campus) in order to officially drop a class.