Forsyth Tech to Graduate 36% More in 2011 than 2010
(WINSTON-SALEM, May 5, 2011) – Hilda Pinnix-Ragland, Vice President-Corporate Public Affairs for Progress Energy, will be the speaker at Forsyth Technical Community College's commencement exercises on Thursday, May 12. The ceremony will be held at 7 p.m. at Lawrence Joel Veterans Memorial Coliseum in Winston-Salem.
Pinnix-Ragland is no stranger to the community college system. She was elected Chair of the North Carolina State Board of Community Colleges in 2005, and is the first woman and first African-American to have held that title.
"Ms. Pinnix-Ragland is a business leader who is very knowledgeable about our community colleges and is committed to the success of community college students across the state," said Dr. Gary Green, President, Forsyth Tech, when asked why Pinnix-Ragland was selected as commencement speaker.
"Commencement is more than an event for our colleges and our students," said Pinnix-Ragland.  "It marks both the ending of an educational milestone and the beginning of a life stage—reaping the benefits of all the challenges, successes and achievements encompassed in completing a community college degree or diploma. I am honored to be able to be at Forsyth Tech and to share in this special day with our students, faculty, staff, trustees and partners."
As Progress Energy's Vice President-Corporate Public Affairs, Pinnix-Ragland is responsible for working with federal, state and local officials to develop public policy that protects consumers and business. She has served as a member of the Board of Directors for the North Carolina Institute of Medicine, former national chair of the National Association of Blacks in Energy, the National Parks Foundation Board of Trustees, NC College Foundation Board of Trustees and the NC A&T University Board of Visitors.
Among her numerous awards and honors, Pinnix-Ragland was appointed to the North Carolina Budget Reform and Accountability Commission, Governor Beverly Perdue's Transition Team, and was awarded the 2010 BOBB Award in Energy by the American Academy of Business and Commerce.
Pinnix-Ragland earned a bachelor's degree in accounting from NC A&T State University in 1977, and an MBA from Duke University in 1986.
Approximately 1,360 Forsyth Tech students will earn associate's degrees, certificates and diplomas that signify completion of their programs of study. This year's graduation rate represents a 36% increase over last year.
Forsyth Tech offers credit programs in Math, Science and Technologies, Business and Information Technologies, Engineering Technologies, and Health Technologies.
The graduation ceremony is open to the public at no charge, and there will be no charge for parking at the Coliseum.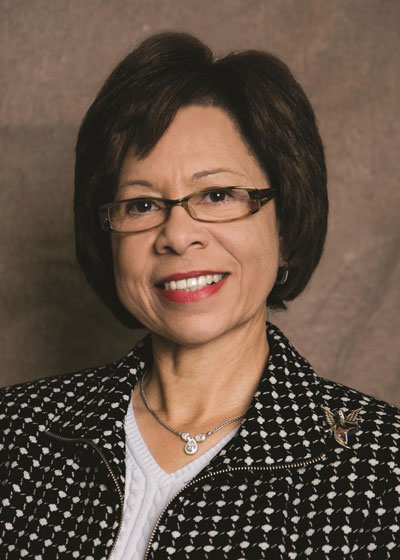 CAPTION: Hilda Pinnix-Ragland, Chair of the North Carolina State Board of Community Colleges, will be Forsyth Tech's 2011 commencement speaker on May 12 at 7 pm at the Lawrence Joel Veterans Memorial Coliseum in Winston-Salem