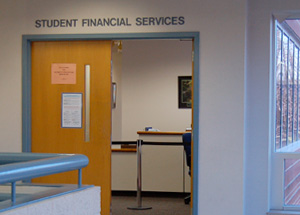 Student Financial Services, Allman Center, Main Campus
Money. Answers. Advice. We're here to help.
The Student Financial Services staff is here to help you get the funds you need to pay for your education. We will work with you to obtain scholarships, financial aid and other forms of assistance for which you qualify.
The Forsyth Tech Checklist to Success in Obtaining Financial Aid
Apply for admission to Forsyth Tech.  You may apply online.  This is a separate process from applying for financial aid; however, financial aid cannot be disbursed until you are approved for admission.  For additional information on admission, please visit the Admissions Office page.
Complete the Free Application for Federal Student Aid (FAFSA) as soon as possible after January 1 of the current year you intend to enroll in college. For additional information on applying, please visit our Application Process and Priority Processing Dates page.
Promptly respond to all requests for information. Once the Office of Student Financial  Services receives a copy of your FAFSA from the U.S. Department of Education, a checklist letter will be sent to the address on file with Forsyth Tech's Records Office, requesting documents needed to complete your file. Once all documents are received, your financial aid file will be reviewed for a possible award.
If it is determined that you are eligible for aid, you will receive a financial aid award letter along with several other important documents.  Carefully read all materials.
Follow-up with your Financial Aid Office Staff if you have any questions.
Financial Aid Forms
Other Sources of Financial Aid
Financial aid is available from many different sources. It's important to investigate as many financial aid sources as possible in order to determine if you qualify for funds.
Forsyth Tech Financial Information
If you have questions, please come by or call the Financial Services office. We are always eager to help.
Student Financial Services Office
Main Campus
Allman Center, 2nd Floor
Suite 261
Monday – Thursday….. 8 am – 7 pm
Friday………………………… 8 am – 3 pm
Phone: 336.734.7235
Need more info?  Check our Financial FAQ.