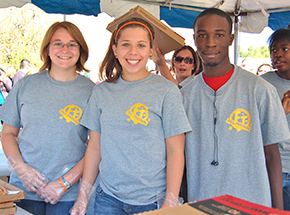 Fun and games. Safety and security. You'll find them all at Forsyth Tech.
At Forsyth Tech, we strive to offer students as many opportunities for growth outside the classroom as in. We also work to maintain a safe and secure environment where students are able to learn, have fun and enjoy their time in college. To learn more, click the links below or at left.
Student Activities – Life at Forsyth Tech doesn't end when class is over. There are clubs and organizations of all kinds, Student Government Council to help develop leadership skills, the Alpha Mu Beta service fraternity, intramural sports, and many events to attend.
Dining on Campus – If you're hungry between classes on Main Campus, you can get a quick meal at The Grill, located in Hauser Hall, or at The Bytes and Beans Cafe, located on the North end of the Parkway Building. Snacks and drinks of all kinds are also available from vending machines located in virtually all buildings on Main Campus and West Campus, as well as other school locations.
Locations – Forsyth Tech has eight different locations to serve the citizens of Forsyth and Stokes counties.
Campus Safety – All students at Forsyth Tech are expected to obey the rules put forth to maintain a safe and secure campus. Please take time to read our Student Alcohol & Drug Policy and our Traffic Rules and Regulations.
Event Calendar – A listing of important dates and upcoming events.