English As a Second Language
Welcome to our ESL program! Classes for our next term will be from January 16 – May 2, 2024. Please see below for registration days and times.
¡Bienvenido a nuestro programa de ESL! Las clases de inglés serán el 16 de enero hasta el 2 de mayo del 2024. Consulte a continuación los días y horarios de inscripción.
REGISTRATION INFORMATION
Spring Registration is complete. Please fill out the form to be added to the waiting list. We will contact you if we have an opening.
La inscripción de primavera está cerrada. Por favor llene el formulario para ser agregado a la lista de espera. Nos comunicaremos con usted si tenemos una vacante.
Free ESL Classes
Forsyth Tech offers FREE English as a second language (ESL) classes. There are six levels in the program from low beginner to advanced. The program helps students to improve their English for everyday communication, work, and/or college.
(Forsyth Tech ofrece clases de inglés sin ningún costo a todas las personas que quieren aprender el idioma. Los estudiantes pueden empezar a estudiar de acuerdo a su nivel de inglés y continuar avanzando a niveles superiores hasta que estén listos para entrar a la universidad y/o mejorar su estatus laboral).
We offer in-person classes at several campus locations. Day and evening classes are available Monday-Thursday, and we have one online course option.
(Ofrecemos clases presenciales en varios campus. Las clases diurnas y nocturnas están disponibles de lunes a jueves y tenemos una opción de curso en línea.)
ADDITIONAL INFORMATION:
The program is very popular and seats are limited.
All registration is in-person.
Regular attendance is required to remain in the program.
Students must be residing in the Winston-Salem area to take classes, including online classes.
For more information, call 336-757-3719 (Spanish) or 336-734-7982.
El programa es muy popular y las plazas son limitadas.
Todo lo que se refiere al registro es en persona.
Se requiere asistencia habitual para permanecer en el programa.
Los estudiantes deben residir en el área de Winston-Salem para tomar clases, incluidas las clases en línea.
Para obtener más información, llame al 336-757-3719 (español) o al 336-734-7982.
ESL Integrated Education Training
English language support, workforce preparation and career training to help you:
Gain credentials
Advance your career or
Begin a new job of program of study!
Ganar credenciales
Avanzar en su trabajo o
Comenzar un nuevo trabajo o estudios!
Email anhunt@forsythtech.edu or call 336.734.7774 to register.
College and Career Pathways
Explore entry-level health care fields such as CNA, EMT and medical assisting, and learn general medical vocabulary to discover if a career in health sciences is right for you!
Carreras en la salud, como CNA, EMT y medical assisting. Aprenda nuevos términos médicos.
In just one course, learn how to teach preschool children and apply for credentials to teach in North Carolina childcare facilities.
En una sola clase, aprenda a enseñar a los niños preescolares y solicitar una credential para trabajar en cualquier guardería en NC.
Learn the basics of wiring, electrical theory and more. Receive hands-on training inside and outside of he classroom.
Aprenda lo fundamental sobre la instalación de cables, la teoría del elétctrica y más. Practique dentro y fuera del salón de clase.
Learn the basics of how to start your own business and be a successful entrepeneur!
Inicie su propia empresa!
Student Success Stories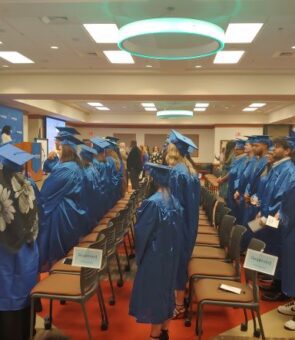 "Adult Ed graduation in November 2022. 7 students from Morocco, Egypt, Colombia, Venezuela, and Mexico completed the EDU 119 8-week course along with English language support and civics training to then go on and apply for the NC early childhood credential. This credential allows them to become a lead teacher in any early childhood institution within North Carolina."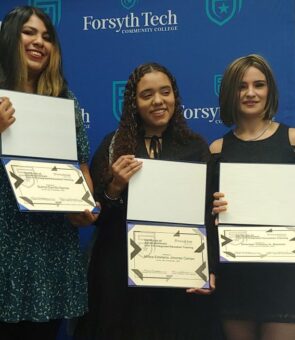 "Far-left Sulma Carrillo Garcia, was hired on the final day of class observations at St. John's Lutheran Preschool."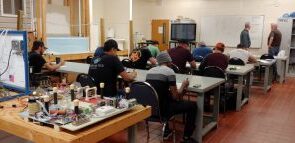 "For 16 weeks, these students learn electrical content while improving their English proficiency, engaging with civics, and preparing for a career in the electrical field.(Electrical classroom at Goodwill)"
"Students from Ecuador, Haiti, and Mexico completed first electrical installation (conEd) integrated education training. Our ESL students earned their NCCER Electrical Level I, II, III credential AND the credential for Electrical Technician from the Home Builders' Institute. "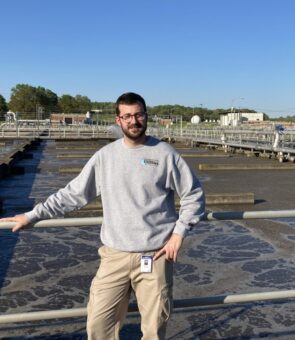 "I am Manuel and I am originally from Spain. I have lived there all my life until last year when I moved to Winston-Salem for family reasons. I am currently studying level 6 of the ESL (English as a Second Language) program at Forsyth Tech Community College. These classes have helped me a lot to enhance my level of English, which was necessary to continue exercising my profession here in the US. In Spain I worked in water treatment, and I have recently been hired by the city of Winston-Salem to work in the same field, in one of the City's wastewater treatment plants. I am deeply grateful for this opportunity as it allows me to develop new technical skills and serve the community by ensuring the water quality of our city. Therefore, I highly recommend to all those who need to improve their English to participate in the Forsyth Tech English programs."
Contact Information
If you have any questions, please call 336.757.3719 or email us. Si tiene alguna pregunta, llame al 336.757.3719 o envíenos un correo electrónico.
ESL Coordinator: Claire Gimble cgimble@forsythtech.edu
Recruitment & Retention Specialist:  Amparo Fajardo Gomez afajardogomez@forsythtech.edu (English & Spanish)