James A. Rousseau, II Minority Male Success Initiative
The James A. Rousseau, II Minority Male Success Initiative aims to connect, engage, and impact the minority male student experience by focusing on the progression and completion rates of minority male students.
The initiative is a goal-oriented program designed to support the educational, professional, and life management aspirations of the minority male students enrolled across our campuses.
The vision of the initiative is to assemble a team of professional staff and students who will physically and socially engage each minority male enrolled at Forsyth Tech to promote equity, diversity, accessibility, inclusion, and belonging.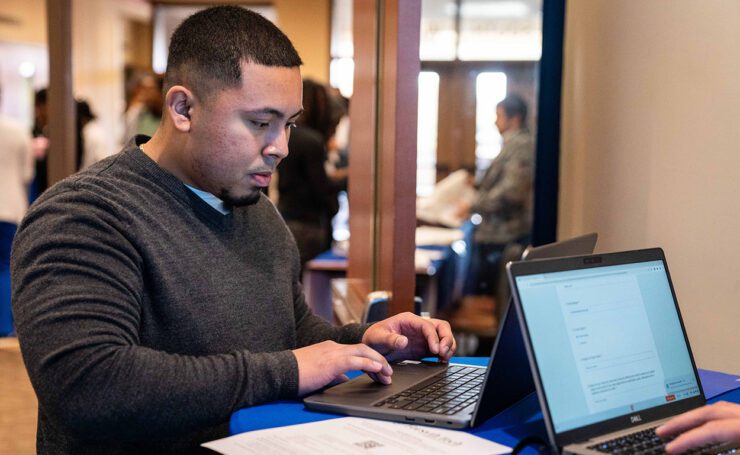 Services Offered
Our goal is to set you up for success and support you! Here is a list of services we provide:
Academic Coaching
Time Management Sessions
Goal Setting & Positive Decision-Making Support
Individual & Group Mentoring
Life Skills & Career Interest Inventories
Job Search Jumpstart/Support
Men's Health Advocacy
Service-learning Projects
Sneakerhead Incentive Program
Clothing Closet with Business Casual & Professional Clothes
National, State, and Local Workshops & Conferences
Advocacy & Goals
This statewide initiative is active at 21 community colleges in North Carolina, providing support services to minority male students using funding allocated by the state. Statewide workshops, conferences, and other collaborative efforts are facilitated through the state initiative. The MMSI has these goals:
Provide minority males an open forum to discuss issues and concerns
Provide structure and support to promote goal-setting and positive choices in decision-making
Increase awareness among minority male students of support services available
Assist minority male students with practical knowledge of budgeting, investments and savings
Hold individual and small group sessions led by senior mentors who are volunteers from the community and Forsyth Tech's minority staff
Collaborate with organizations and groups on and off campus to enhance the services available to students
Utilize the Early Alert System to assure success in the classroom for all students
Share cultural and educational activities with local colleges to help our students become well-rounded
Frequently Asked Questions
Students can contact our staff directly through email, phone, or in person, using the contact information listed.
There is not an age limit concerning who can participate. We need an array of students to advance our mission.
We accept and provide business casual and business professional clothing. The items available include suits, dress jackets, dress shirts, ties, and shoes.
All minority male students enrolled across our campuses are encouraged to participate.