Forsyth Tech News
Celebrating UNCG's Support of College Lift!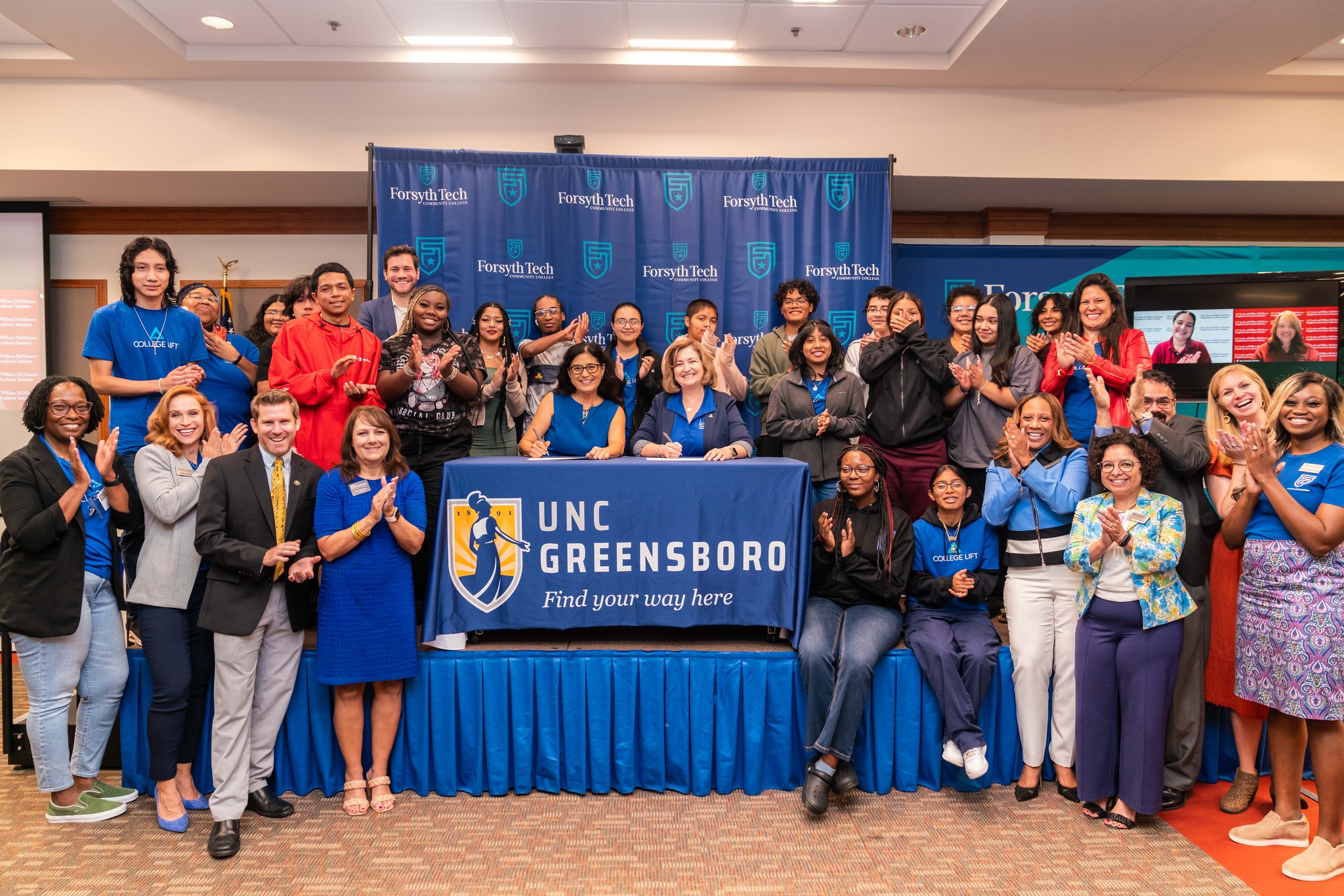 We are proud to announce the expansion of scholarships for its groundbreaking College Lift Program, aimed at providing essential support to students from Title I schools, facilitating their journey towards post-secondary success. This expansion sees the inclusion of UNC Greensboro (UNCG) as a scholarship partner, further enhancing the opportunities available to College Lift students.
College Lift, known for its innovative and holistic approach to student success, has garnered recognition for its commitment to leveling the playing field for students from underserved communities.
To commemorate this significant milestone, an official signing event was held between Forsyth Tech and UNCG on Saturday, September 16. This event not only symbolizes the collaboration between the two institutions but also marks the beginning of a transformative journey for many aspiring students. Forsyth Tech and UNCG were pleased to be joined by Kim Thomas Barrios, Associate Senior Vice President for Educational Partnerships, and Dr. Lizette Zarate, Program Director of the USC McMorrow Neighborhood Academic Initiative from the University of Southern California, the program after which College Lift was modeled.
Under the terms of the MOU, UNCG has committed to offering 20 scholarships annually exclusively to College Lift students. These scholarships will allow the recipients to pursue their passions and interests while receiving a world-class education from a renowned institution.
Dr. Janet Spriggs, President of Forsyth Tech, expressed her enthusiasm for the expansion of the scholarships available to College Lift students. "We are thrilled to partner with UNCG to further strengthen the impact of the College Lift. This collaboration aligns perfectly with our mission of empowering students to achieve their dreams. Together, we are creating pathways to success for those who need it most."
UNCG Chancellor Franklin D. Gilliam, Jr., echoed Dr. Spriggs' sentiments, saying, "UNCG is nationally recognized for its collective commitment to student success – especially for providing support to those students who are the first in their families to attend college. On behalf of the Spartan family, we look forward to welcoming Forsyth Tech's College Lift students and stand ready to help each student earn their degree."
As the College Lift Program continues to pave the way for students to overcome barriers and reach their full potential, the addition of UNCG as a scholarship partner stands as a testament to the enduring impact of collaboration in the realm of education.