Student Stories
Revving Up Dreams: A Daughter's Journey into Motorcycle Mechanics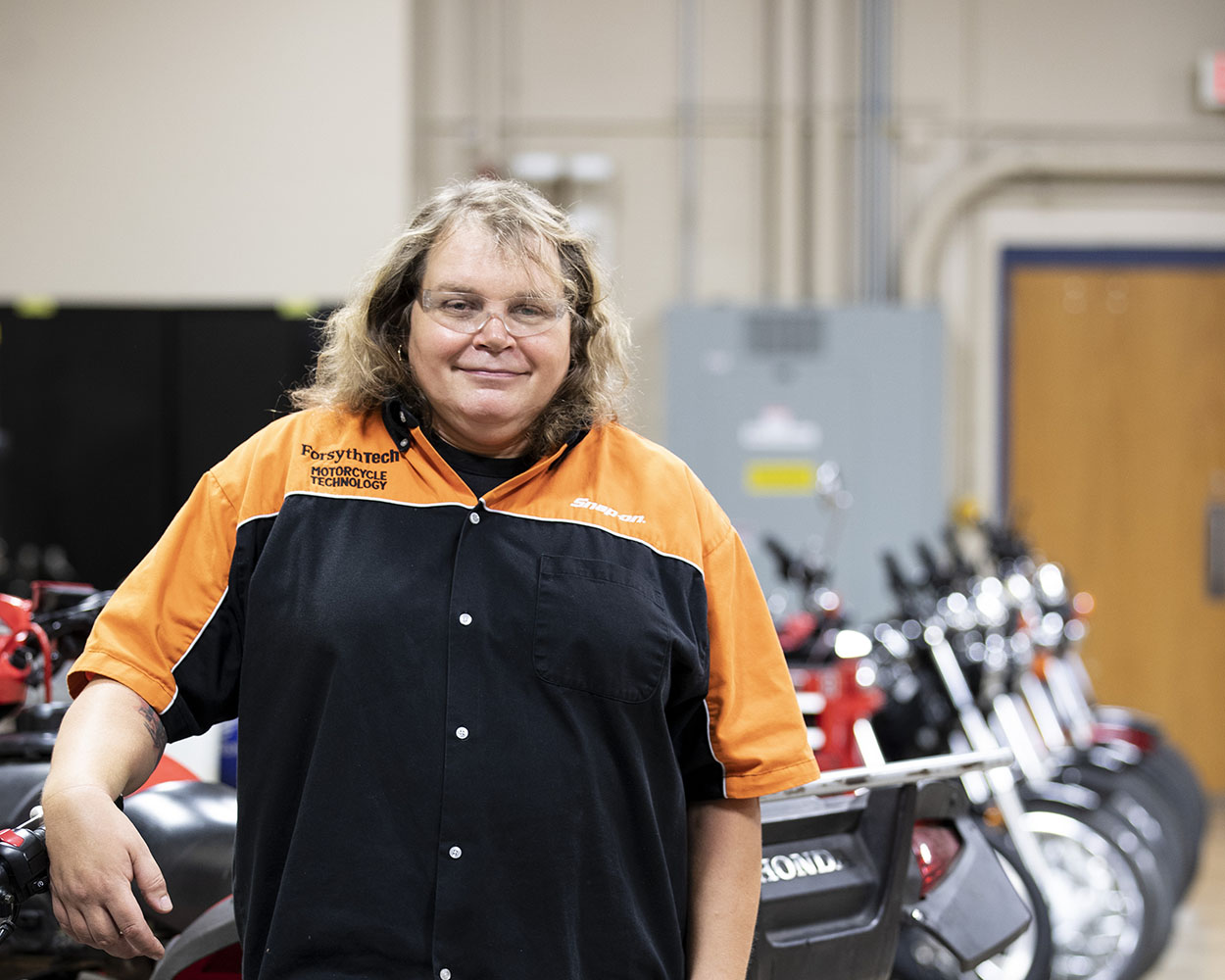 Joanna Holston stands out when you walk into Forsyth Technical Community College's Motorcycle Mechanics program classroom. She's tall with wavy hair and blue eyes – but that isn't it. What makes your eyes find Joanna is the joy that radiates from her – it is palpable and undeniable.
This person has figured out what they should be doing in life. And it makes you want to be around her.
Her interest in motorcycles began at a young age, watching her father work on his Honda CB350 and helping him. Joanna's love of working on bikes and interest nearly came to a screeching halt, though; she enabled her Dad to work on his rear brakes, and then the next time he rode the Honda, he got into an accident. Joanna was then forbidden to be on bikes anymore.
But, her interest could not be quashed that easily. Always hanging around the garage while her Dad worked, he finally caved and told Joanna that she could get her endorsement and start riding if she could get a 1978 Honda 185 TwinStar that he took in on trade. The catch: her father wouldn't help her get it running. Of course, Joanna got the bike running. She quickly made and found friends who wanted to help her – her innate curiosity about bikes made her fun to be around, and she obviously had a talent for taking things apart and the creative problem-solving that truly artful mechanics possess.
But, as she says, over the next few years, "Life happened. As the years passed, everyone who knew me told me I needed to get back to riding, and I just brushed it off." Joanna had children and even tried attending college a couple of different times at a couple of other places, including a brief stint to try to become an aircraft mechanic like her father (he served in the Naval Air Force), but nothing stuck.
One day, Joanna saw Jessi Combs on TV and started to follow her on Overhaulin' and other shows. Joanna told me, "This girl is a complete badass!" What's funny is that, when talking to Joanna, you get the feeling that she doesn't realize that she, too, is a complete badass – and of the same ilk as Combs.
Despite following Combs and feeling inspired by her, Joanna's life continued to have dips and turns; most days, she felt depressed: she wasn't spending time fixing bikes or even riding them. She had decided a while ago that she didn't want to ride if she couldn't be on a Harley Davidson.
Joanna's dad picked up on the fact that she was down, and tried to convince her to start looking for a Harley of her own. From time to time, they would peruse bikes at a local shop, but her father would always say, "No, this isn't the right one for you." Which, if you love things with motors, you understand that a bike (or a car, truck or boat, for that matter) is something you can have a feel for – like sliding into your new favorite chair, or a first bite of a favorite dessert.
In 2017, Joanna's father passed away, and she went to a Harley dealership to "sort her head out," feeling very much like she wouldn't ever be able to afford one of her very own, but knowing, deep down, that being around bikes would make her feel better.
After talking with the store manager, Joanna decided the time to try for a Harley of her own was now; and she settled on a 2007 FXDL lowrider with Twin Cam 88. Her credit application was approved and she was given 30 days to provide the necessary down payment. At the end of the 30 days, Joanna was still $250 short. The store manager asked her if she had any guns that she may be interested in trading in lieu of cash – it just so happened that she did.
During Joanna's darkest days, she contemplated suicide, and she had a pistol that she would sometimes hold as she thought of the unthinkable. Once, she shot a hole in the roof of her father's house.
It's hard not to tear up as she says, "It went off before it got to my head." Joanna used this same gun as a trade for part of the down payment for her first Harley. She stops to look at me, smiling and blue eyes twinkling as she says, "So really, the Harley saved my life."
It was clear to Joanna that she loved motorcycles. But, it took another nudge or two from the universe before she realized she should pursue a career in Motorcycle Mechanics. She was working at a long haul truck driver when she saw Jessi Combs in South Dakota. Joanna opted not to talk to Combs then, she looked tired and Joanna understood being the kind of tired that you are when people can look at you and see it. She figured she'd have another chance to meet Combs, anyway. Then, a couple of months later, she saw Combs' truck and kit in Idaho.
Joanna remembers thinking again what an inspiration Combs was, but it hit her harder when Combs died in an accident just a few days after Joanna passed by her on the highway.
Shortly after, Joanna was sitting in her garage, thinking about how the first service was due on her Harley – which would cost a whopping $600. Fortunately, Joanna listened to the tiny voice that said, "Hey Joanna, you have the manuals, tools, and knowledge – just do it!"
So, she dove in. Joanna continued to work on her bike, completing the first service, then a Stage 1 Kit. Next, she tackled a Stage 2 Kit and was into the nuts and bolts of the bike and continued working. The next thing she knew, it was four o'clock in the morning. Joanna was so immersed in working on her Harley she didn't notice 14 hours had passed.
Only then did Joanna realize that she should pursue motorcycle mechanics as a career.
She did some research and found the Motorcycle Mechanics Program at Forsyth Tech. She currently commutes from Hickory to Winston-Salem, close to 80 miles, to attend class and this is the longest that she has ever been enrolled in a program. She's brought her own Harley in to take apart and work on, and lights up when she talks about getting to share a newer Harley motor with her classmates. She credits local service shops like T-Man Performance in Kernersville with helping her out with parts and sometimes labor at cost, saying that they're kind to assist her since she is a student. Again, not realizing it is her infectious enthusiasm and unrelenting can-do attitude that make people want to help her.
"It's a never ending project, but it's fun to be able to bring it in here and allow the other students to be a part of it." She talks about having another automotive class paint her bike's sidecovers with polka dots as a nod to Jesse Combs. "They're not perfect, but that's what makes them so great, is because students did it," and it is clear that Joanna would not trade those sidecovers for a creation from famed Platinum Motorsport.
Joanna considers herself lucky to have landed in such a fun and supportive environment. Forsyth Tech's Transportation Technology Center, which houses the Motorcycle Mechanics Technology program and several others, is the largest center of its kind in the southeast. The Center has practical labs, general education classrooms and computer labs. Students can complete degrees in Automotive Systems Technology, Collision Repair and Finishing Technology, Diesel and Heavy Equipment Technology, Race Car Technology and Toyota's T-TEN program.
In addition to working towards earning her degree, Joanna has turned her focus towards sharing her experiences with students and making sure as many people as possible know about the program. She talks passionately about making sure that women and girls know that they have a place there, and that they shouldn't underestimate their ability to get their hands dirty and be just as good at anything they want to do as their male counterparts.
Joanna feels, "There's a lot of barriers as a woman in this industry." But, in a way that I am learning is typical of her, she also grins and says, "It's kind of funny that you get in this situation and then, once you show them up, it's like….." Joanna grins and opens her hands and arms out wide, implying that she's shown more than one man that she knows her way around a bike.
Her ultimate dream is to own a bike shop of her own, where everyone is welcome. She aims to create a safe space, where people with varying levels of knowledge, and women, members of the LGBTQ+ community and children can all come to learn to work on their bikes, see people working and be a part of the community.
Joanna sometimes laments that it took her close to half her life to realize what she should be doing, but now that she's figured it out, she wants to help others. Her driving force and advice for others? "Instead of worrying about how you are going to excel in life, I think it's really important, and the question you need to ask is 'what can I do to help others accelerate in life? What's the point in moving forward if you can't take anybody with you?"