Forsyth Tech News
Forsyth Tech Hosts Black History Month Celebration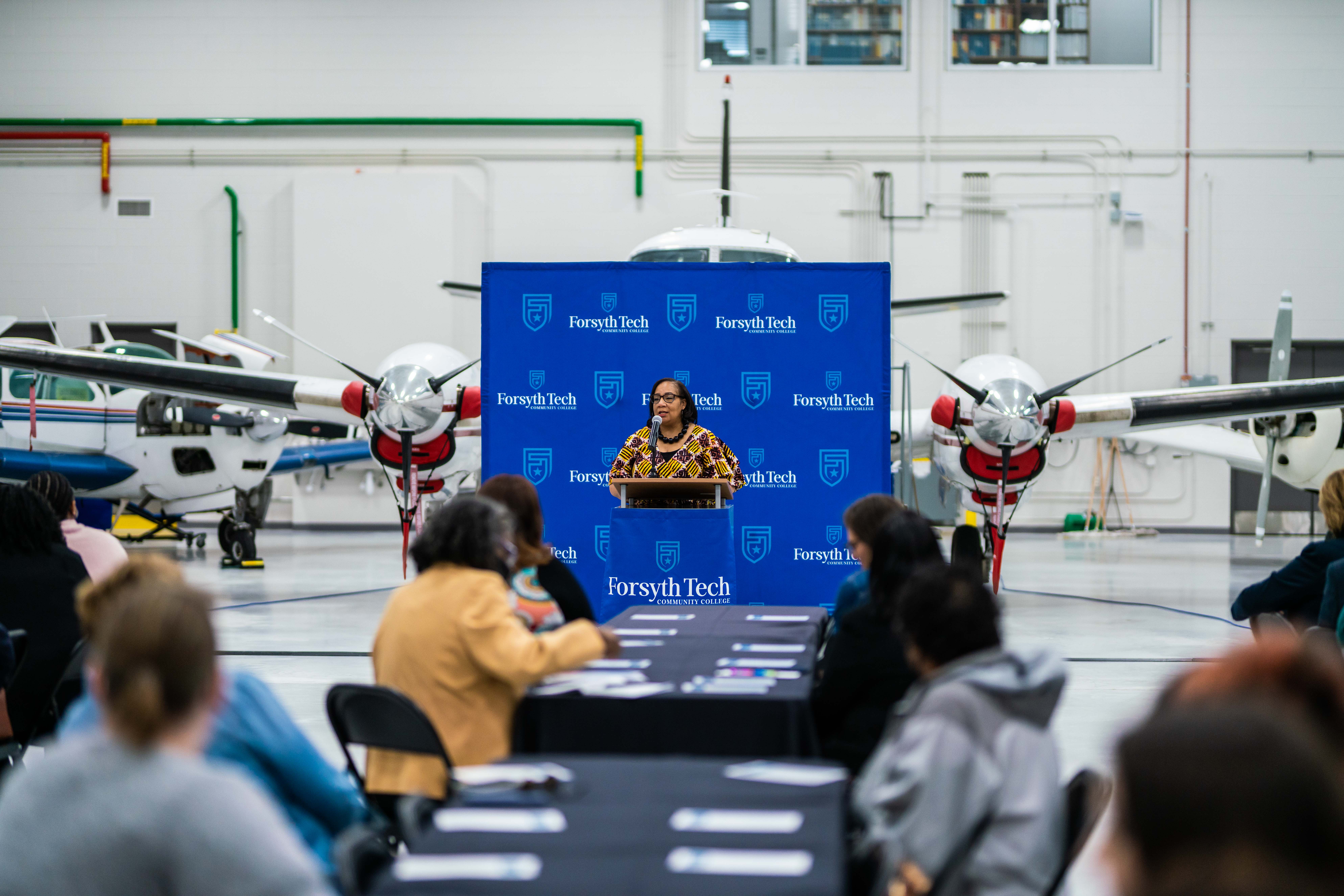 Forsyth Tech's annual community Black History Month Celebration was held on February 22, 2023, at the Mazie S. Woodruff Aviation Technology Lab. The theme explored continuing Mazie Spencer Woodruff's legacy of service to her community. Mazie Woodruff was the first African-American elected to serve on the Forsyth County Board of Commissioners in 1976.
Millicent Woodruff, great granddaughter of Mazie Woodruff, reflected upon the "intangibles of a legacy," and her great grandmother's commitment to service, faith and advocacy. She shared a quilt that she and her relatives worked on that celebrated Mazie Woodruff's legacy as a pioneer and visionary for the future of our community. Millicent also quoted her great grandmother's refrain at community gatherings: "We can do this. We will do this," as she encouraged us all to remember and repeat it to ourselves as we work to transform our community for the better.
The keynote speaker for the event, Representative Dr. Amber Baker, the state representative for District 72, spoke of her personal experience with Mazie Woodruff, which began when she worked on her campaign while Dr. Baker was still in high school. Rep. Dr. Baker also shared her journey as an educator and community advocate, reminding attendees that your path may wind, but that you can find your purpose if you remain open and committed to your community.
Rep. Dr. Baker thanked the Woodruff family, many of whom were present, "for sharing her with us. Because I am Mazie Woodruff," she said. She also spoke directly to the students who were among the attendees, reminding them to, "Keep walking in your truth. Keep speaking your truth."
Attendees also heard from Dr. Janet Spriggs, President of Forsyth Tech, who reaffirmed Forsyth Tech's commitment to its vision of being a catalyst for equitable economic mobility. Dr. Spriggs spoke of the unique privilege that the college has to honor individuals like Mazie Woodruff, and work to continue her legacy of service, advocacy, social justice and education.
Additional speakers included Ocir Black, an Early College student, and Du Juan D. Jones, a student in the Aviation Technician Program at Forsyth Tech.