Forsyth Tech News
Forsyth Tech Hosts Night of Comedy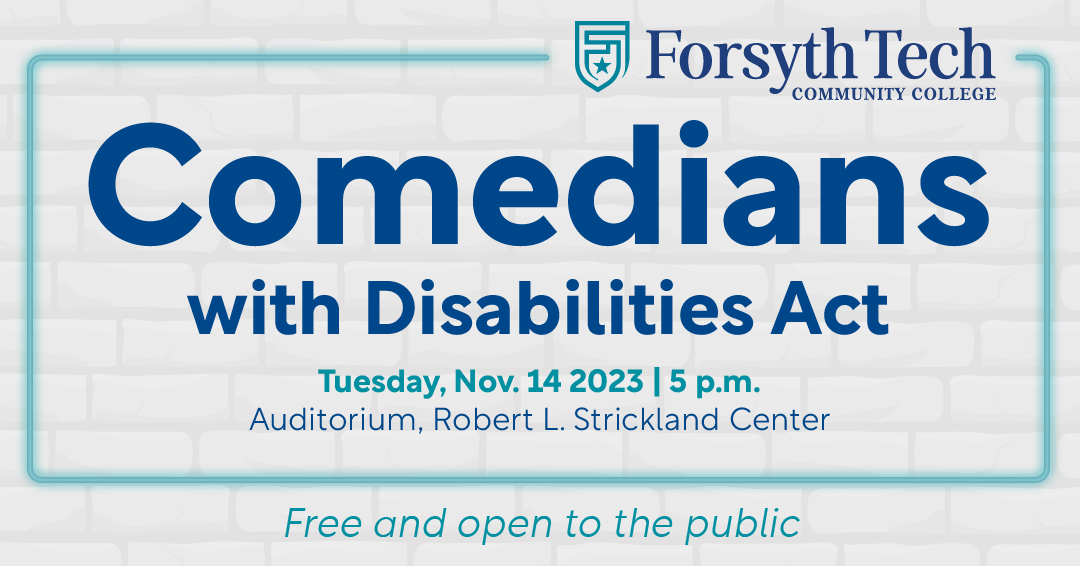 Experience an Evening of Laughter with Comedians Nina G and Mean Dave at Forsyth Tech
Winston-Salem, NC – Forsyth Tech announces a night of comedy like no other, featuring the talented comedians Nina G and Mean Dave. Get ready to laugh until it hurts on November 14 at 5 p.m. on Forsyth Tech's main campus, for this celebration of the 50th anniversary of the Rehabilitation Act.
Nina G is an accomplished author and disability advocate known for her exceptional wit and humor. Her recent solo comedy album soared to number one on the iTunes and Amazon comedy charts, a testament to her remarkable comedic prowess. Adding to the excitement, Nina G's first comedy special debuted yesterday, which was met with uproarious laughter and rave reviews.
With a memoir titled "Stutterer Interrupted: The Comedian Who Almost Didn't Happen," released to critical acclaim in 2019, Nina G has solidified her place in the comedy world. She, along with co-author OJ Patterson, launched "Bay Area Stand-Up Comedy: A Humorous History" in February 2022. Her performances have taken her across the United States, gracing the stages of renowned comedy venues and earning her appearances on prominent daytime TV talk shows, NPR broadcasts, and popular podcasts.
Joining Nina G is the ever-entertaining Mean Dave, a beloved comedian celebrated for his unique comedic style. In his tenth year of addiction recovery, Mean Dave ingeniously incorporates his personal journey into his humor, offering audiences a fresh and relatable perspective. With opening acts for notable comedians like Josh Blue, Big Jay Oakerson, and Jay Mohr, Mean Dave's comedic prowess has been recognized on a national scale. He has also brought his comedic talents to college campuses across the country, captivating audiences with his sharp wit and relatable anecdotes.
Don't miss this extraordinary evening of comedy with Nina G and Mean Dave at the Auditorium at the Robert L. Strickland Center (2100 Silas Creek Parkway, Winston-Salem, NC) on November 14 at 5 p.m. Get ready for a night filled with laughter, entertainment, and unforgettable moments. The event is free and open to the public and an RSVP is required at https://short.forsythtech.edu/comedians.